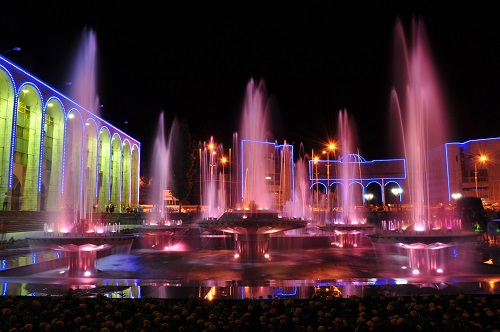 Fountains in Bishkek, Kyrgyzstan

Tripcook Kyrgyzstan (Travel Agency) welcomes you and invites to visit Central Asia and Kyrgyzstan, one of its beautiful countries with rich and ancient culture. Our agency offers all types of tours in Kyrgyzstan and neighbouring countries. We offer the best prices for such services as Letter of Invitation (LOI)/visa support in Kyrgyzstan, booking of airlines to arrive in the country. Our experienced tour operators will develop an itinerary/program that would best suit your travel needs for Kyrgyzstan and, if desired, will connect your Kyrgyz journey with further trips to Kazakhstan, Turkmenistan and Uzbekistan.

Kyrgyzstan has rich ethnic traditions of nomadic life. Local people have bred cattle for centures in those mountains and steppes. They have inherited not just picturesque traditions and lifestyle, but also a warm attitude towards foreigners and a deep feeling of hospitality.


visa support (LOI) to foreign citizens
assistance in finding connections and purchasing air tickets from Kyrgyz airlines and international airways operating flights to Kyrgyzstan
ground transportation and automotive transport for travels inside the country and in the region of Central Asia
best hotels, from smaller size and lower budget to global hotel chains
carefully selected excursions organized by knowledgeable tour guides and served by tourist drivers with a special training for safety and security
selection of customizable tours to reflect the travel resources and opportunities in Kyrgyzstan, including offers for backpackers, students, small groups with children, individual travelers and tourists in groups, as well as leisure and business travelers.


Click the link below to contact us for immediate response to your travel needs in Kyrgyzstan. Every your wish and travel idea is important to us, and our trained tour specialists will look at your request asap to deliver the best service.
Send request for travel services in Kyrgyzstan