Whale & Dolphin Watching Tours in Sri Lanka
The south coast of Sri Lanka is one of the very best places to see Blue Whales in the entire world. It is being recognized as the largest blue whale colony in the World.



Indeed it is almost the best to see both Blue Whales and Sperm Whales together. Most of these Blue Whales are on migration, en-route from their North East monsoon feeding grounds off Trincomalee to their South West monsoon feeding grounds in the Arabian Sea.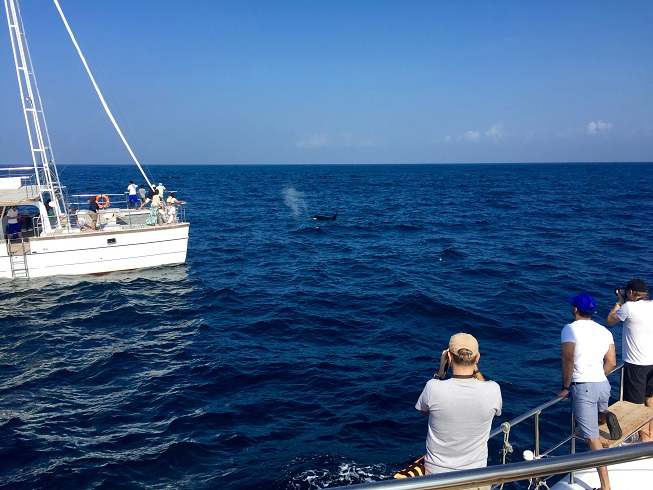 Giants in their natural habitat....



The other cetacean species that can be seen during you 3 – 4 hours boat ride are Bryde's Whale, Dwarf Sperm Whale, unidentified Beaked Whale, Spinner Dolphin, Striped Dolphin and Indo-Pacific Bottlenose Dolphin.





We Asian Escapes arrange boat rides in the sea off Mirissa both on sharing and private basis. If you are keen on spending few more hours in the sea, Asian Escapes welcomes to spend a night on a yacht and witness the largest mammal in the world in their natural habitat..


More travel products/services from Asian Escapes (Pvt) Ltd
10 Nov 2016




Sri Lanka Kiting Escape - 8 Days Tour

23 Sep 2016




Sri Lanka Heritage Escape - 5 Days Tour

06 Jul 2016




Roaring Wild.... Nature & Wildlife Tour in Sri Lanka

15 Jun 2016




Explore at your Own Pace - Sri Lanka Trekking Tour

11 Jun 2016




Sri Lanka Surf Song

20 May 2016




Kandy Esala Perahera 2016

20 May 2016




Typical Sri Lanka Taste - Sri Lanka Food Safari

18 May 2016




Sri Lanka Heritage Expedition

18 May 2016




Adventurous Sri Lanka