Kandy Esala Perahera 2016
With its 65,525 sq. km blended with the tranquility of the Mother Nature, Sri Lanka is a great destination with diverse attractions. Nature has endowed Sri Lanka generously – its small dimension harbours the world's tenth richest bio diversity.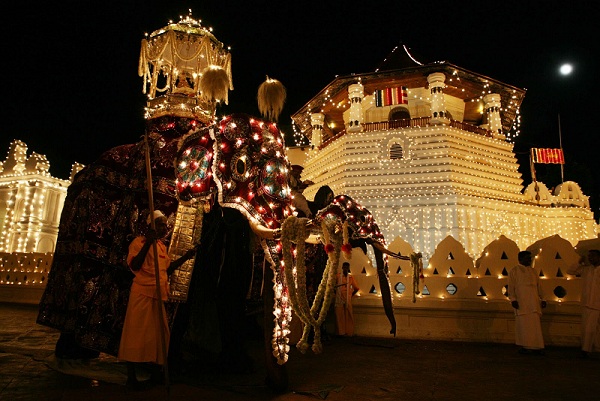 Tusker carrying Relic Casket



Kandy Esala Perahera; The Most Colorful Event in Asia held annually for the honour of the Sacred Tooth Relic of Lord Buddha and obtain blessings for the Country.

This is the grand festival with elegant costumes held in Sri Lanka. This festival consisting of dances and colourfully decorated elephants. There are fire-dances, whip-dances, Kandyan dances and various other cultural dances. The elephants are usually adorned with lavish garments.

This annual pageant constitutes the greatest religious festival of Sri Lanka which attracts thousands of pilgrims as well as tourists from all over the world.
More travel products/services from Asian Escapes (Pvt) Ltd
10 Nov 2016




Sri Lanka Kiting Escape - 8 Days Tour

23 Sep 2016




Sri Lanka Heritage Escape - 5 Days Tour

30 Aug 2016




Whale & Dolphin Watching Tours in Sri Lanka

06 Jul 2016




Roaring Wild.... Nature & Wildlife Tour in Sri Lanka

15 Jun 2016




Explore at your Own Pace - Sri Lanka Trekking Tour

11 Jun 2016




Sri Lanka Surf Song

20 May 2016




Typical Sri Lanka Taste - Sri Lanka Food Safari

18 May 2016




Sri Lanka Heritage Expedition

18 May 2016




Adventurous Sri Lanka