6-days-5nights Travel to the north Vietnam
This tour takes you to the most stupendous region of Vietnam, the markets of ethnic people, the mountains of the Black H'mong of Dong Van and the Ma Pi Leng Pass, to the magic Babe Lake, through another very spectacular mountain road.

Tour code: PRT 15E

Departure dates: Everyday

Destination: Ha Giang, Meo Vac, Dong Van, Ban Gioc waterfall, Ba Be lake, Northern, Vietnam.

Duration: 6 days

Tour Itinerary:

Day 1: Ha Noi - Ha Giang

Day 2: Ha Giang - Dong Van

Day 3:Dong Van - Ma Phi Leng - Meo Vac - Cao Bang

Day 4: Cao Bang - Ban Gioc Waterfall

Day 5: Cao Bang - Ba Be Lake

Day 6: Ba Be Lake - Hanoi

Day 1 Ha Noi - Ha Giang (L, D)

You will depart from Hanoi at 8am, heading via Road no.2 to Ha Giang. After stopping for a delicious lunch in Tan Quang gardens you will continue the journey arriving in Ha Giang at 6pm. On arrival you will visit a nearby Tay village, where you will have dinner and spend the night in a family owned stilted house.


Stunning view in Ha Giang, Vietnam



Day 2 Ha Giang - Dong Van (B, L, D)

After purchasing the mandatory permit at the Immigration Office, you will journey along a spectacular road with a series of long passes and deep valleys, leading to Dong Van. After enjoying lunch in the small mountain town of Tam Son you will then cross a pine forest to arrive at the astonishing King of the H'mong's Palace, a fortress built by a local chief allied with the French against the Vietminh, Vuong Chin Duc, and evacuated in 1950 (his descendants now live in France and Canada). Arrival in Dong Van will be around 6pm where you will have dinner in a local restaurant and an overnight stay in a hotel.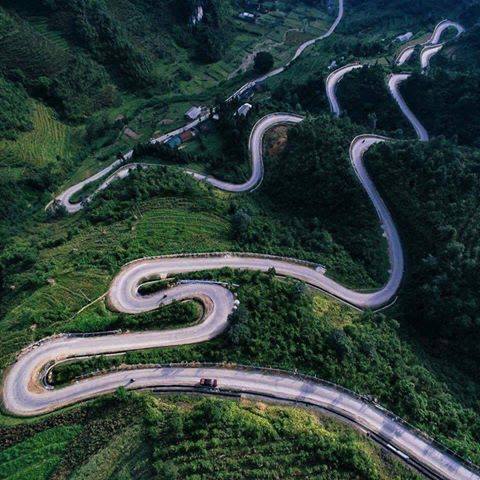 Mã Pì Lèng- The most dangerous pass in Vietnam



Day 3 Dong Van - Ma Phi Leng - Meo Vac - Cao Bang (B, L, D)

An absolutely unforgettable day! It starts with the visit to the market of Dong Van, where the locals shop for everything they need. We then climb a pass up to the French Fortress of Pu Lo, built in 1890 and vacated in 1945. The views of the entire region from here are incredible. We then drive along one of the most astonishing roads in Vietnam, which climbs 15 km up to the top of the Ma Pi Leng Pass, through a gigantic maze of unique lime peaks, "stone forests", and canyons. We then go down into the valley of Meo Vac, visiting Meo Vac market before continuing on, snaking through the mountains, crossing the river, and arriving in Cao Bang town, where we have diner and spend the night.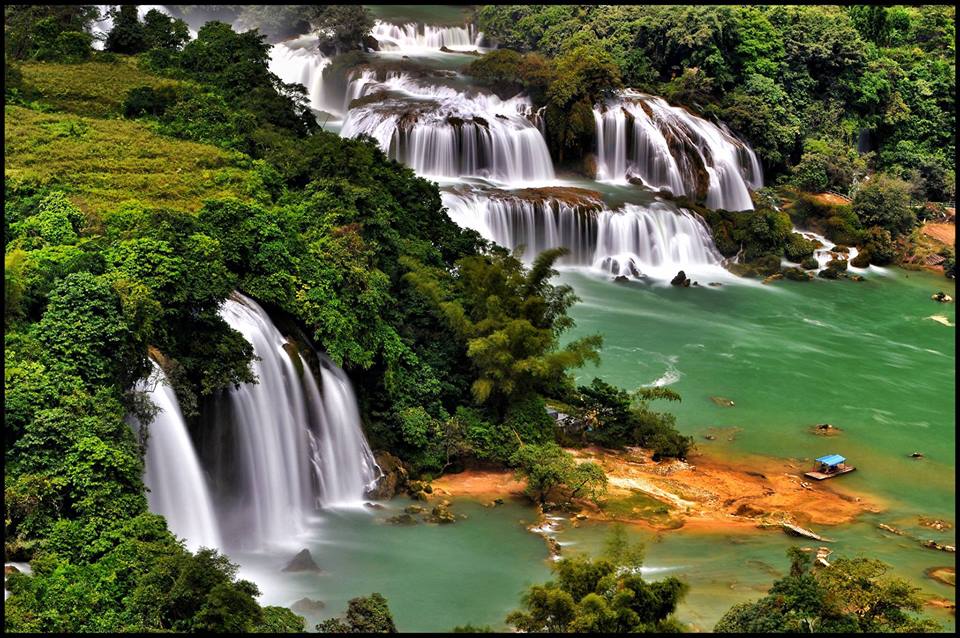 One of Vietnam's most impressive natural sights- Bản Giốc waterfall



Day 4 Cao Bang- Ban Gioc Waterfall (B, L, D)

We start early to take the mountain road Cao Bang - Ban Gioc Waterfall. We will take about 2 hours drive to visit Ban Gioc waterfalls, the highest and most spectacular in the area. Enjoy an imposing sight of Ban Gioc waterfalls and relax freely with plenty of time for photos. You will then visit Nguom Ngao "Tiger Cave". After Ban Gioc, another one of our little secrets : a gorgeous small road snaking through the mountains to the Nung village of Quang Uyen, where you are welcomed by Mr. Hung Dao amazingly friendly blacksmith in their traditional villages of forging. Dinner and overnight at Nung hour.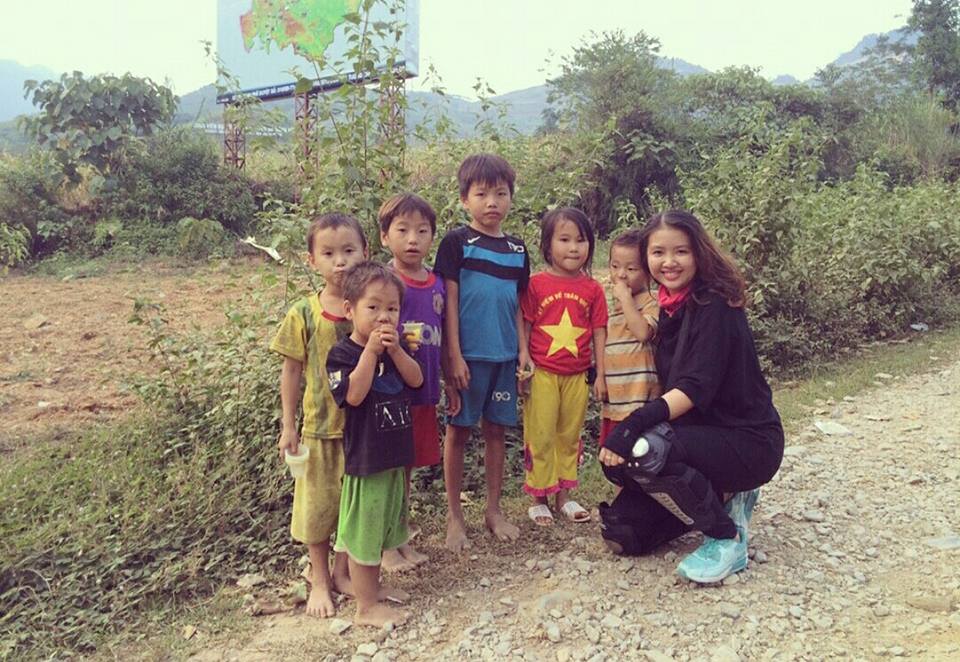 Children are pretty friendly to tourists



Day 5 Cao Bang - Ba Be Lake (B, L, D)

A treat! Breakfast at hotel, then 3 hours drive to Cho Ra for lunch. We will reach to the house owner's boat, who takes you through the entire length of the 3 connected lakes (Ba Be - "3 bays") and up the Nang River, to an astonishing site: Dong Puong, an enormous tunnel 300-long that the river has dug through a lime mountain. The boat then enter to Ba Be lake. If it hots We can have a swim in crystal clear waters before you visit the stilt houses of the Tay community in Coc Toc village, where you will spend the night in Mr Linh's Homestay.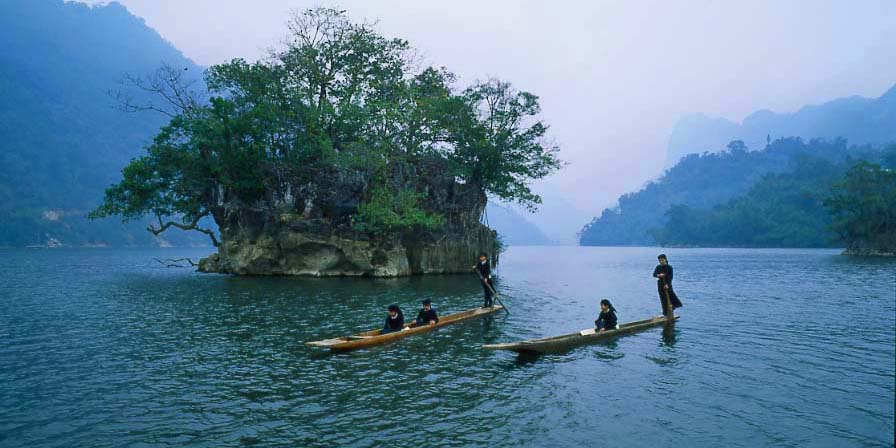 Ba Bể- The biggest fresh lake in Vietnam



Day 6 Ba Be Lake - Hanoi (B, L)

We stroll along the riverfront, visit some lovely villages and hike the upper reaches of the lake, in an area marked by massive limestone cliffs and mountains. On the way, we pay a visit Pac Ngoi village where the local people still keeps the traditional stilt house then enter Hua Ma cave famous with thousand of stalactites and columns. Driver will bring you through a pass which we call "Dog Flower Pass" then stop to take amazing photos by terraced fields. After lunch in a local restaurant, it is our journey back to Hanoi, arriving there at around 6pm.

Tour price includes:

Private door-to-door pick-up & -off services.

All private transfer and transportation

Accommodation

Experienced English speaking guide.

Private boat trip

Meals as stated in the itinerary

All sightseeing tickets.

No extra charge after confirmation

24/7 hotline support guaranteed

Tour price excludes:

Personal expenses, tips and gratuities

Travel insurance

Beverage

Other services not mentioned above.

What to take:

Pack essentials, including light comfortable clothes suitable for outdoor activities, comfortable walking shoes. Take a small day pack for hiking and trekking.

It is essential to bring your passport on this trip. We also recommend packing: insect repellent, sun cream, raincoat and sun hat...

FOR MORE INFORMATION: PLEASE VISIT OUR WEBSITE BY CLICKING THE LINK BELOW:

MR LINH'S ADVENTURE TRAVEL INFORMATION

OR SENDING US AN EMAIL TO : OPERATOR@MRLINHADVENTURE.COM
More travel products/services from Mr Linh's Adventures
27 Oct 2016




5 DAYS 4 NIGHTS DISCOVERY FAST TRACK CHALLENGE FOR NORTH VIETNAM

27 Oct 2016




5 DAYS 4 NIGHTS FAST TRACK DISCOVERY OF NORTH VIETNAM

27 Oct 2016




9 DAYS 8 NIGHTS ULTIMATE NORTH VIETNAM EXPERIENCE

27 Oct 2016




7 DAYS 6 NIGHTS ADVENTURE IN NORTH VIETNAM

27 Oct 2016




8 DAYS 7 NIGHTS OFF THE BEATEN TRACK IN NORTH VIETNAM

27 Oct 2016




13 NIGHTS 12 NIGHTS NORTH VIETNAM, DISCOVERY ETHNIC VILLAGES MOUNTAINS LAKE AND SEA

26 Oct 2016




9 DAYS 8 NIGHTS TO THE REMOTE MOUNTAINS AND HALONG BAY IN NORTH VIETNAM

26 Oct 2016




5 DAYS 4 NIGHTS THE HIGHLIGHTS AND HIDDEN GEMS OF HALONG BAY AND BA BE LAKE

26 Oct 2016




7 DAYS 7 NIGHTS THE ULTIMATE IN ETHNIC COLOUR AT THE MARKETS OF NORTH VIETNAM

26 Oct 2016




5-days-4-nights Discover Ha Giang, Dong Van, Meo Vac, Ba Be Lake

26 Oct 2016




4-days-3-nights Discover Ba Be Lake and Ban Gioc waterfall

26 Oct 2016




3-days-2-nights Ba Be Lake and Ban Gioc Waterfall

26 Oct 2016




3-days-2-nights Discover Ba Be National Park

26 Oct 2016




2-days-1-night in Ba Be Lake

08 Mar 2016




Vietnam package tours