Air flights to Uzbekistan and Central Asia
With Aba Sayyoh, you can reserve and buy air tickets for flights of Uzbekistan Airways (Uzbek Khavo Yullari) both locally and internationally. We highly advise to reach one of our flight agents to check what discounts are available based on your flight information.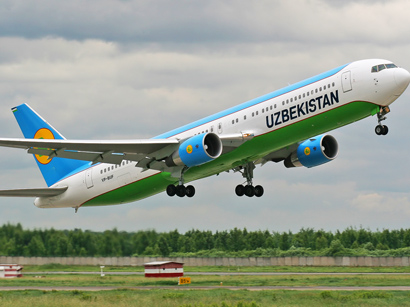 Uzbekistan Airways - a safe flight operator



While preparing a tour in Uzbekistan, it is very important to reserve local flights inside the country. Because travel in Uzbekistan is seasonal, there may be deficit of seats on flights to local cities Bukhara, Samarkand, Khiva, Termez, Nukus and Fergana. Our agents will exert all efforts to supply such air tickets.

Also, Aba Travel Agency can accept your payments via Paypal for all types of credit cards.
More travel products/services from Aba Sayyoh
25 Jul 2020




Tour in Uzbekistan: Samarkand, Bukhara

22 Oct 2017




Tour in Bukhara, Uzbekistan

09 Jun 2017




Visa to Uzbekistan

28 Apr 2017




Tour in Khiva, Uzbekistan

28 Apr 2017




Tour in Tashkent, capital of Uzbekistan