The Beagle Galapagos
The Beagle - view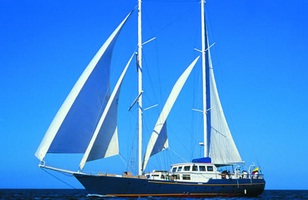 The Beagle Yacht Cruise - view



The Beagle Galapagos is named after HMS Beagle, in which Charles Darwin made his famous voyage to the Galapagos Islands, and later wrote his theory of evolution based on his findings in this extraordinary archipelago.

The wonderful Beagle is a magnificent 105-foot twin screw steel-hulled brigantine with teak decks and beautifully designed interiors, The Beagle Galapagos is in a class by itself among sailing yachts in the Galapagos islands. She was built by Cubow Ltd. in Woolwich, England, in the 1970's and registered with Lloyd's (number Y 195095), but her designer is unknown. She's been a charter vessel in the Galapagos Islands for over a decade and has been substantially refurbished under her current ownership.

You will feel the sensation of space aboard the Beagle Galapagos for kicking back and relaxing between your unforgettable visits on land. The saloon offers a small library of Galapagos literature, and a selection of games.

All around the wide decks, comfortable seating allows you to choose sunshine or shade for lounging and observation. Breakfast, lunch and dinner are served on board with the exception of the day you visit Puerto Ayora, when you will enjoy a meal in the highlands of Santa Cruz Island. Meals blend Ecuadorian and continental cuisine and are served on deck or in the saloon. Coffee and tea are available on deck, cold drinks including beer and a selection of wine and cocktails you may purchase from a well stocked bar. Refreshing snacks, especially at teatime, round out your daily menu.

A friendly and highly professional crew of six will attend you while you are cruising on teh Beagle: captain, helmsman, steward, cook, engineer and your certified bilingual naturalist guide. The guide will accompany you to all visiting sites within the National Park, providing a wealth of knowledge about the geological and human history of the Galapagos Islands, and of course about every aspect of their intriguing flora and fauna.

Smart Voyager certificate

Because of a deep concern for the conservation of these Enchanted Isles with their increasing population of close to 25,000 people (2006), The Beagle's Galapagos management endeavours to use locally produced goods and services, maintaining its main offices in Puerto Ayora on Santa Cruz Island. The Beagle has been awarded the Smart Voyager certificate, which is granted to tourist operations after careful inspection of their adherence to sound conservation practices.
More travel products/services from Galapagos Experience
13 Jun 2012




Samba Galapagos