Samba Galapagos
Samba Yacht Cruise - view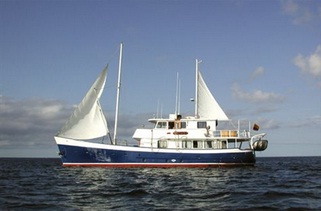 Samba Yacht Cruise - view



The wonderful Samba Galapagos is a dutch built with teak decks in 1966 as a luxury private yacht, the Samba is now a perfectly well converted cruise boat specialized for Galapagos Islands cruises. The Samba Galapagos accommodates 14 guests, a perfect number to enjoy the magic of the Galapagos Islands with privacy and flexibility cruising in Galapagos. Its professional, experienced and friendly crew and naturalist guide are devoted to go the extra mile to make your journey a trip of a life time.

The upper deck with an outside dinning area and sun protection is ideal for bird and marine life watching. On the main deck, an outside area with reading, resting and also eating space; and inside, there is a dining salon with library with TV/VCR and Stereo. Here is where briefings and conference-talks are given and planning about next day activities. Foredeck has enough space for sun bathing, dolphin watching or just to relax and observe marine life and the beautiful landscape of the Galapagos islands. The ample and comfortable space on deck makes this boat ideal for nature and photography cruises.
More travel products/services from Galapagos Experience
13 Jun 2012




The Beagle Galapagos