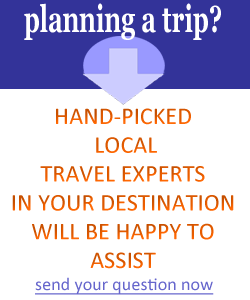 to travel companies in Colombia


Travel Agents in Colombia

Aventure Colombia, Bogota


Av. Jimenez #4-49 Ofc 204

Aventure Colombia is a French- Colombian travel agency engaged in sustainable tourism and specialist of Adventure Travels, Ecotourism and Community Tourism. As a pioneer in Colombia, the agency has 10 years of experience and an extensive knowledge of the country. We are committed to propose...

Last Modified: 26 Apr 2017 travelers' reviews: travelers' rating: 0 of 10 travel products: 0

Last Modified: 11 Dec 2011 travelers' reviews: travelers' rating: 0 of 10 travel products: 0

Last Modified: 25 Jan 2012 travelers' reviews: travelers' rating: 0 of 10 travel products: 0