Natural Wonders of Argentina
13 DAYS / 12 NIGHTS



Valid from Jul 2012 to Feb 2013

Except Christmas & New Year

ITINERARY

Perito Moreno Glacier - El Calafate

DAY 01- BUENOS AIRES (-/-/-)

Meet and greet at Ezeiza International Airport. Transfer to selected hotel. Arrival, check-in and 3 night accommodation, including breakfast.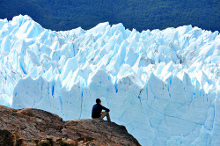 Perito Moreno Glacier - El Calafate



DAY 02 - BUENOS AIRES (B/-/D)

After breakfast you will visit the most important sites of the city during a city tour (3 hours). This sightseeing will allow you to discover the magic of this cosmopolitan city, capital of Argentina. The magnificence of the Northern Quarters, Palermo and the beauty of its parks and buildings, Recoleta with its French style architecture, bars and cafes; the imposing Colon Theater, one of the five most important opera houses in the world; Plaza de Mayo (May Square) surrounded by the Government's House (The Pink House), The Old Cabildo (Town Hall) and the Metropolitan Cathedral; San Telmo, residence of the aristocracy until the turn of the XIX century. The colors of La Boca, pictures the quarter of Italian immigrants; and the fashion area of Port Madero with its many bars & restaurants round off this excursion. PM at leisure to walk around the city. A visit to our emblematic 'Cafe Tortoni' is a must!! Buenos Aires nightlife provides its own inhabitants and visitors with numerous entertainment possibilities. This evening you will attend an unforgettable tango show performed by the best dancers and singers, while enjoying a delicious meal. This is the perfect way to live Buenos Aires, the city of tango. Return to the hotel.

DAY 03 - BUENOS AIRES (B/-/-)

Day at leisure. We suggest one of the following optional tours:

Tigre and Delta Only 30 km from downtown Buenos Aires, the city of Tigre constitutes the access to know the Delta of the Parana River , a group of islands and streams that open up like a fan and offer an attractive natural scenery ideal for recreation and rowing, skiing, sailing or fishing. This 4 hour tour includes sailing along the different canals of the Delta and goes through the northern residential area of Buenos Aires suburbs, where the President's Major House is located.

Gaucho's Festival The typical landscape of the Argentina humid Pampa, one of the most fertile natural prairies in the world, famous for its meat and cereal production, may be appreciated by the tourist in this tour that includes a reception with 'empanadas' (meat pies) and 'asado' (roast meat) and good Argentinean wines, a show with folk songs and dances and an exhibition of the gaucho's abilities with riding, taming and the use of the lasso.

DAY 04 - BUENOS AIRES - BARILOCHE (B/-/-)

Transfer to the domestic airport to board flight to San Carlos de Bariloche, gateway to the Lake District Area. Arrival at Bariloche Airport and transfer to selected hotel. Check-in and 2 night accommodation with breakfast. Day at leisure to walk around this Andean town located on the shore of Lake Nahuel Huapi.

DAY 05 - BARILOCHE (B/-/-)

Half day 'Short Circuit' tour. Starting at Bustillo Avenue and bordering Lake Nahuel Huapi, we'll visit Playa Bonita, Mount Campanario (chair lift is optional), San Pedro Peninsula, Llao Llao Peninsula and Saint Edward's Chapel, Port Panuelo. Continuing the journey we'll cross the Angostura Bridge over the stream that joins the Moreno & Nahuel Huapi Lakes, Bahia Lopez and El Trebol Lagoon. We'll reach the Panoramic Point, a natural balcony over Moreno Lake and Llao Llao Peninsula that offers a magnificent view of the lakes and the surrounding mountains. Free time for lunch and PM Tour of Cathedral Mount which received its name from the granite spires which look like a gothic cathedral. It's also one of the most important ski resorts in Argentina, offering many facilities for ski enthusiasts. From the base, a chair lift or a Cable Car ride may be taken(optionally) , this allows you to admire the outstanding view or depending the season, enjoy the snow on top. Return to Bariloche by late afternoon.

DAY 06 - BARILOCHE - USHUAIA (Via El Calafate) (B/-/-)

Morning transfer from the hotel to Bariloche Airport to board flight to Ushuaia, the southernmost city of the world. Arrival at Ushuaia Airport. Reception and transfer to selected hotel. Check-in and 2 night accommodation with breakfast.

DAY 07 - USHUAIA (B/-/-)

AM Half day tour to Tierra del Fuego National Park, the only one with maritime coast in the country. Within its 63,000 hectares, we'll find firebushes, beech trees, nires, box-leafed barberries and flowers such as orchids, violets and other species. Bordering the mountains we'll follow a road were peat bogs and beaver dams can be appreciated. After crossing the Lapataia River, we' ll have a magnificent view of Laguna Verde (Green Lagoon) and the upland geese and ibis that come here every summer. A walk along the path up to Laguna Negra (Black Lagoon) or the Beavers' Path will be suggested at that point. At Lapataia Bay (end of National Route Nr.3) we'll appreciate the testimony of the original inhabitants of the Island (the Yamanas) in an interesting archaeological place: the 'concheros'. On the way back to Ushuaia, we'll make a brief stop at Lake Roca , whose colour varies according to the weather. Afternoon Free. We suggest to take an Optional Tour to sail along the Beagle Channel and visit the Seals and Birds Islands and Les Eclaireurs Lighthouse.

DAY 08 - USHUAIA - EL CALAFATE (B/-/-)

Transfer to Ushuaia Airport to board flight to El Calafate, gateway to The Glaciers National Park. Arrival at El Calafate International Airport and transfer to selected hotel. Check-in and 2 night accommodation including breakfast. Evening free to walk around this picturesque Patagonian town located on the shore of Lake Argentino.

DAY 09 - EL CALAFATE (B/-/-)

Full day tour to Perito Moreno Glacier, located within the Glaciers National Park, 80 kms from El Calafate. The Perito Moreno Glacier is one of the main natural beauties of Argentina. Due to its wonder it has been declared by UNESCO a World Natural Heritage in 1981. Arriving at the Glaciers' balconies, visitors will spend about 4 hours walking along pathways and admiring it from different viewpoints. Framed by a beautiful landscape of mountains, lakes and forests, the Perito Moreno Glacier is one of the most spectacular scenes of nature. It owes its fame to its continuous movement, which produces a cyclical phenomenon of advance and backward motion with amazing ice toppling.

DAY 10 - EL CALAFATE - TRELEW - PUERTO MADRYN (B/-/-)

Day at leisure. We suggest the following optionals:

Full day Glaciers Gourmet Experience: Navigation across Lago Argentino, visiting the barrier of ice floes in Canal Upsala (wich at present does not allow us to get closer to Upsala glacier) and the stunning Spegazzini glacier. Gourmet lunch on-board with alcoholic and soft drinks included. Landing in Puesto de Las Vacas. Infusions and soft beverages during navigation. On-board activities conduced by a bilingual guide (English/Spanish). Transfers from and to El Calafate. Entrance fee to Parque Nacional Los Glaciares included.

Late afternoon transfer to El Calafate Airport to board flight to Trelew, gateway to Peninsula of Valdes Natural Reserve.

Arrival at Trelew Airport and transfer to your selected hotel at Puerto Madryn. Check-in and 2 night accommodation including breakfast.

DAY 11 - PUERTO MADRYN (B/-/-)

Full day tour to Peninsula of Valdes, the most important natural reserve of marine fauna of the whole Patagonia Region. We'll visit the seals' colonies at Puerto Piramides. From this point depart the boats that approach the whales from June to November, an unforgettable experience!!! (optional). We'll continue to Punta Delgada, where we'll appreciate one of the biggest sea elephants growery of the region. Free time for lunch (optional). In the afternoon we'll drive along the Atlantic Seaside towards Caleta Valdes observing seals and sea elephants groups by the sea and amazing views of the marine scene. Return to the Istmo Florentino Ameghino a thin piece of land that joins the Peninsula with the Continent and visit to the Interpretation Center. Later stop in front of the Birds' Island where a wide variety of marine local birds can be appreciated from the shore. Return to Puerto Madryn by late afternoon.

DAY 12 - PUERTO MADRYN - BUENOS AIRES (B/-/-)

Early departure to Punta Tombo, the most important MAGELLAN PENGUIN continental settlement and one of the greatest shows of wildlife in the world. Along the way we'll observe part of our native Patagonian flora and fauna. Once on the reserve, we'll walk along pathways to approach the penguin nests towards a high cliff with an amazing view of the whole reserve and its coast. Return to Trelew and immediate transfer to the airport to board flight to Buenos Aires. Reception at the airport and transfer to selected hotel. 1 night accommodation including breakfast.

DAY 13 - BUENOS AIRES (B/-/-)

After an amazing experience at one of the southernmost countries in the world, transfer to the airport to board flight to your next destination.

END OF SERVICES

EXTENSION TO IGUASSU FALLS (2 NIGHT PROGRAM)

DAY 13 - BUENOS AIRES - PUERTO IGUAZU (B/-/-)

Arrival at Puerto Iguazu Airport and transfer to selected hotel. Check-in and 2 night accommodation with breakfast.

DAY 14 - IGUASSU FALLS (B/-/-)

Visit to the Argentinean Side of Iguassu Falls, located 24kms from Puerto Iguazu. Arrival at the Visitors Center , an interpretative building with giant panels showing the importance of the biodiversity of the subtropical humid forest. To get to the catwalks overlooking the falls, visitors will board a gas-propelled train that will take them to the Upper Falls Circuit and the Devil's Throat. The walking tour takes place through the lower circuit catwalks with duration of 1 hour and the upper circuit catwalks with duration of approximately 50 minutes. To visit the Devil's Throat, visitors should board the train at the Cataratas Station, close to the Upper Circuit. Once at the Devil's Throat Station, visitors will take a walking tour on a flat catwalk built over the Upper Iguassu River, with an extension of 1100meters that lead visitors to the balconies for an amazing panoramic view of this magnificent fall: The Devil's Throat.

Total duration of the tour: 6 hours approximately.

DAY 15 - IGUASSU FALLS - HOME (B/-/-)

Early departure to visit the Brazilian Side of the Iguassu Falls . Arrival at the Visitors Center, located 10 kms from the heart of the Park. Visitors will be transferred on specially conditioned buses to the catwalks for a walking tour of approximately 1 kilometer of extension, where they will admire the falls from different viewpoints.

At the end of the catwalk you will find a fantastic close-up encounter with the Devil's Throat and main falls.

Duration of the Tour: 3 hours approximately.

In the afternoon, transfer to Foz do Iguacu (IGU) or Puerto Iguazu (IGR) Airports to board flight to your next destination.

END OF SERVICES
More travel products/services from Scenery Travel Service
13 Jun 2012




Pure Patagonia

13 Jun 2012




Argentina Cultural Heritage