7 Days Machame Route
Day 1: Pick up from Lodge/Hotel – Machame Gate 1840m – Machame Hut – 9kms – 6 to7hrs – Altitude gain 1140m

To Machame Hut, 3000m. After a transfer to the park gate, a 7 hour walk through the forest takes you to Machame Hut. You camp throughout the climb, and your crew will take good care of you, erect and dismantle the camp, and provide you with tasty, filling food. Full board.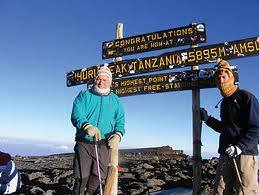 Day 2: Machame Hut 2980m — Shira Cave – 7kms – 5 to 6hrs – Altitude gain 890m

To Shira Cave, 3800m. An initial steep climb followed by a gentle incline. After lunch a descent and ascent brings you to the camp. Walking time approx. 5 hours. Full board.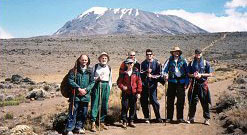 Day 3: Shira Hut 3840m — Barranco Camp – 10kms – 6 to 7hrs – Altitude gain 700m down 600m

To Barranco Wall, 3900m. Today you climb slowly for some 5kms. This is a fairly strenuous day as the altitude begins to tell. Walking time approx. 8 hours. Full board.

Day 4: Barranco Camp 3950m — Karanga Valley Camp – 6kms – 3 to 4hrs – gain 250m down 250m

To Karanga Valley Camp 3930m. Today you climb to Barranco Wall 1hr and view Arrow Glacier then walking down Karranga Valley 2hrs and overnight on top of the Valley. Full board

Day 5: Karanga Camp 3930m — Barafu Camp 4kms – 3 to 4hrs – gain 650m

To Barafu Camp, 4600m. Climb Karanga Valley to Barafu. Full board.

Day 6: Barafu Hut 4600m — UHURU PEAK 5895m — Millennium Camp 19kms – 12 to 14hrs – Alt. gain 1295m down 2105m

Barafu to Uhuru, 5895m, then descend to Mweka, 3100m. You will wake at about midnight for the torchlight climb to Stella Point, approx. 7 hours with rest stops, and finally to the highest point, Uhuru Peak with fantastic views of glaciers and plains far below. Descend to Mweka or High Camp, arriving late afternoon. Full board.

Day 7: Millennium Camp — Mweka Gate – 10kms – 5hrs – descend 1050m – Transfer to Lodge/Hotel

A descent of some 4 hours takes you to Mweka Village where you are met and transferred back to the Keys Hotel. Full board
More travel products/services from Wild Root Safaris And Adventures
30 Sep 2016




6 Days Tanzania Discover Safari