6 Days Masai Mara,Naivasha, Lake Nakuru National Park
6 days safari to the world famous Bird Sanctuary of Lake Nakuru, then

South over the Mau Escarpment to Kenya's greatest concentration of game –

the Maasai Mara- Kenya's most popular game park, with the possibility of

seeing all the big five and many other species of game. This is where the

great wildebeest migration is a spectacle to behold for any would be

visitor to Kenya mainly in July –October each year

Day 1 : Nairobi –Lake Nakuru National park

Pick up from Airport/hotel and drive to the Great Rift Valley viewing sceneries

enroute.We arrive to the Pink Lake often referred so due to it's Great

masses of Flamingos in good time for lunch. Lunch at a lodge followed by

full afternoon game drives. Dinner and overnight at Nakuru Lodge or similar



Lake Nakuru's claim to fame is anchored on its flamingo's and the over 400

species of birds found here. The lake itself is a soda lake on the floor

of the rift valley. The sight of the at times millions of flamingos is

quite spectacular. From a distance the lake appears ringed in pink. The

Lake has also earned a reputation as an important haven for endangered

species- particularly the Rothschild Giraffe and the black and white

rhino. Lions, waterbuck, buffalo and baboons are all residents here

Day 2 Nakuru –Lake Naivasha

Breakfast then depart for Naivasha – lunch at Lake Naivasha arriving in

time for an afternoon optional boat ride. Alternatively, a nature walk at

Crescent Island is an excellent way to see wild animals while on foot. The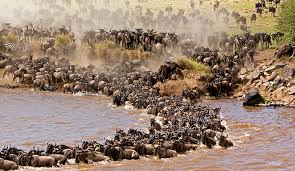 Island is a private game sanctuary, which is home to zebra, wildebeest,

gazelle, Vervet monkeys, hares, genet cats, waterbuck and giraffe.

Overnight at Sentrim Elmentaita lodge or Lake Naivasha Sopa Lodge

Day 3 : Lake Naivasha– Maasai Mara

We depart the lodge soon after breakfast and proceed to Maasai Mara to

arrive in good time for Lunch. Late afternoon game drives followed by

dinner and overnight stay at Mara sopa Lodge or similar

Day 4 & 5 : Maasai Mara

Full days spent exploring the park in search of the big 5 – Optional

balloon safari can be arranged at an extra cost of US$ 450 per person.

Dinner and overnight stay at Mara Sopa Lodge

The Mara offers wildlife in such variety and abundance that it is

difficult to believe: over 450 species of animals have been recorded here.

You will easily see lions, rhinos, hippos, crocodiles, giraffe,

wildebeests, zebras, buffalo, warthogs, hyenas, jackals, wild dogs,

buffalo, leopard, many kinds of antelopes and elephant. It is in the Mara

that perhaps the most spectacular event of the natural world takes place.

This is the annual migration of millions of wildebeest and zebra from the

Serengeti (Tanzania) in search of water and pasture. Following on their

heels are the predators of the savanna- lion, cheetah, wild dog, jackal,

hyena and vultures.

Day 6 : Maasai Mara – Nairobi

Pre breakfast game drives then drive to Nairobi via Narok to arrive by

1400 hrs where the tour ends

price$2400 per person sharing

Safari price Includes:

-Transport on custom made 8 seater Safari minibus ideal for game viewing

and photography

-Full board accommodation whilst on safari

-Accommodation in double room

-All park entrance fees to include government taxes

-Service of an English speaking professional driver/guide

-All game drives as detailed in the itinerary

- Complimentary return airport transfers

-Bottled water whilst on safari

-Start and end in Nairobi.

-Personalized service

safari price excludes:

-Tips -Laundry

-Beverages/Drinks

-International flights

-Visas

-Items of a personal nature

-Any other extras not detailed in.
More travel products/services from spotkenyasafaris
18 Oct 2016




5 Days 4 Nights :Tsavo East - Taita Salt lick - Tsavo West - Amboseli-Kenya Safari Package

18 Oct 2016




2 Days Tsavo East Tsavo West National Park Safari - Kenya Safari

18 Oct 2016




3days maasai mara budget camping sfari

18 Oct 2016




4 Days 3 Nights Tsavo East - Amboseli - Tsavo West National Park

18 Oct 2016




2 Days Tsavo East Safari - Kenya

18 Oct 2016




7 Days Samburu /Lake Nakuru/Maasai Mara Wildlife Lodge Safari

18 Oct 2016




4 Days Masai Mara Lake Nakuru National Park

18 Oct 2016




3 Days Masai Mara Lodge safari

18 Oct 2016




7 Days Kenya Scenic Safari

18 Oct 2016




3days Tsavo East and Amboseli safari

18 Oct 2016




7 Days Sweetwater's , L Nakuru , Masai Mara safari Classic Safari

18 Oct 2016




6 Days Amboseli /Tsavo West/Tsavo East Mombasa luxury lodge safari

18 Oct 2016




3 days amboseli special safari

17 Oct 2016




6 days Amboseli Nakuru masai Mara wildlife camping tour

17 Oct 2016




4 Days Lake Nakuru/Masai Mara Budget Safari