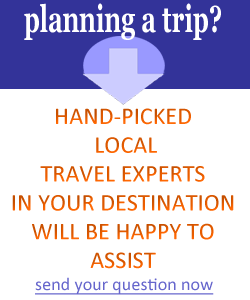 to travel companies in Morocco


Travel Agents in Morocco
Open Doors Morocco , Marrakesh, Morocco
Jnan Awrad, Section 13
Our Morocco Tours create natural opportunities for cultural connection. Ultimately we seek to: a. ) Convey a compelling and unique "sense of place" such that our guests recognize that their travels have brought them to a place that is distinct from the place they call...
Last Modified: 14 Apr 2015 | travelers' reviews: | travelers' rating: 0 of 10 | travel products: 0
Morocco Desert Palm Tours, Erfoud
Ksar Ouled Matalla BP124 Erfoud Morocco
Provide private tours all around Morocco, specialized in desert and oasis area. Desert camping, camel treks, 4WD driving, oasis walking tours will be arranged.
Last Modified: 20 Apr 2013 | travelers' reviews: | travelers' rating: 0 of 10 | travel products: 4
Sahara Services Travel, Marrakech
Imm. Moutassali, Appt. 38 (4th floor), 88 Bd. Zerktouni
Last Modified: 10 Jul 2012 | travelers' reviews: | travelers' rating: 0 of 10 | travel products: 0
Atlas Voyages, Casablanca
20000, Casablanca, 44 Avenue des FAR
Last Modified: 7 Feb 2012 | travelers' reviews: | travelers' rating: 0 of 10 | travel products: 0
Hyatt Voyages, Agadir
80 000, Morocco, Agadir, Immeuble IguenouaneBP 3153, Boulevard Mohamed V
Last Modified: 11 Feb 2012 | travelers' reviews: | travelers' rating: 0 of 10 | travel products: 0