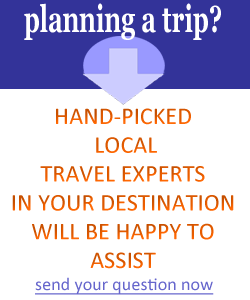 to travel companies in Mauritania


Tour Operators in Mauritania
Mauritania Best Tours, Nouakchott
Ksar C5 175
We are a travel agent for tour operations in Mauritania and we are able to operate all kind of tours.
Last Modified: 17 Jun 2018 | travelers' reviews: | travelers' rating: 0 of 10 | travel products: 0
Mauritania for Tourism , Nouakchott, Mauritania
Tevragh Zeina, Nouakchott, Mauritania
Mauritania for Truism is a young dynamic company; it is working hardly, to positioning itself as one of the leading tourism companies in north and West Africa region. To reach our goal, we are working with local communities as well as government agencies and we...
Last Modified: 20 Feb 2016 | travelers' reviews: | travelers' rating: 0 of 10 | travel products: 0
ADRAR-Voyages, Nouakchott
BoГ®te Postale 926 Avenue General de Gaule Nouakchott Mauritania
Last Modified: 15 Apr 2012 | travelers' reviews: | travelers' rating: 0 of 10 | travel products: 0
Surmi Voyages, Nouakchott
BoГ®te Postale 4800 Nouakchott Mauritania
Last Modified: 15 Apr 2012 | travelers' reviews: | travelers' rating: 0 of 10 | travel products: 0
Terre Nomade, Nouakchott
BoГ®te Postale 5845 Nouakchott Mauritania
Last Modified: 15 Apr 2012 | travelers' reviews: | travelers' rating: 0 of 10 | travel products: 0