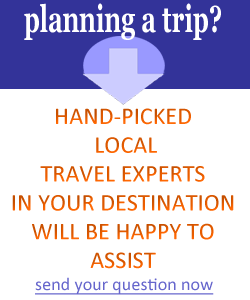 to travel companies in Ghana


Tour Operators in Ghana
Melian Travel & Tours, Accra
Westlands Road, West Legon, Accra,
Melian Travel & Tours is a one- stop travel and tour provider. We provide both tailor- made and scheduled tours to Ghana tourist attractions. Our tours include entrance fees, air- conditioned transportation, a tour guide and accommodation.
Last Modified: 22 Apr 2013 | travelers' reviews: | travelers' rating: 0 of 10 | travel products: 0
SUREWAY TRAVELS, Accra
P.O.Box AB 334 Abeka-Accra Ghana, West Africa
Sureway Travels is a vibrant travel and tour agency. The company is owned and operated by Ghanaian professionals who are well able to handling both individual and corporate travel, and leisure need. Sureway Travels is steadfastly dedicated to pursuing a culture and custom of excellence...
Last Modified: 14 Jun 2016 | travelers' reviews: | travelers' rating: 0 of 10 | travel products: 0
Land Tours Gh., Accra
199 Soula Loop, LaboneP.O. Box AN 6094
Last Modified: 28 Nov 2011 | travelers' reviews: | travelers' rating: 0 of 10 | travel products: 0
SCORPION TRAVEL & TOURS, ACCRA
ACCRA, ACCRA, P.O. BOX NT 707, ACCRA NEW TOWN
Last Modified: 25 Jan 2012 | travelers' reviews: 1 | travelers' rating: 10 of 10 | travel products: 0
Blastours, Accra
No. 60 Kwame Nkrumah Motorway Extension Dzorwulu, Greater Accra P.O.Box S.K. 771 Sakumono, Tema Accra Ghana
Last Modified: 13 Apr 2012 | travelers' reviews: | travelers' rating: 0 of 10 | travel products: 0
Continent Tours, Accra
Accra Ghana
Last Modified: 13 Apr 2012 | travelers' reviews: | travelers' rating: 0 of 10 | travel products: 0
CTB World Travel, Accra
32 Shiuno Road Awudome Est. P.O.Box AN 12032 Accra North Ghana
Last Modified: 13 Apr 2012 | travelers' reviews: | travelers' rating: 0 of 10 | travel products: 0
Expertravel & Tours, Accra
P.O.Box OS 0823 Osu Accra Ghana
Last Modified: 13 Apr 2012 | travelers' reviews: | travelers' rating: 0 of 10 | travel products: 0
Fadiwaa Travel & Tours, Accra
P.O.Box DS 1168 Dansoman Estates Accra Ghana
Last Modified: 13 Apr 2012 | travelers' reviews: | travelers' rating: 0 of 10 | travel products: 0
Journeymax Executive Travel & Tours, Accra
1st Floor, Fidelity House Ring Road Central P.O.Box 5952 Accra North Ghana
Last Modified: 13 Apr 2012 | travelers' reviews: | travelers' rating: 0 of 10 | travel products: 0