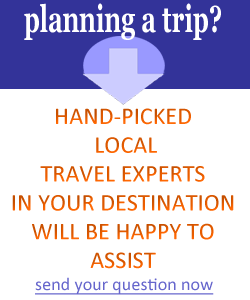 to travel companies in Costa Rica


Tour Operators in Costa Rica

Last Modified: 21 Aug 2018 travelers' reviews: travelers' rating: 0 of 10 travel products: 0

Last Modified: 24 Aug 2018 travelers' reviews: travelers' rating: 0 of 10 travel products: 0

Last Modified: 27 Aug 2018 travelers' reviews: travelers' rating: 0 of 10 travel products: 0

Away We Go - Costa Rica Tours, Playa Brasilito


Brasilito, Costa Rica

Our tour packages combine the natural beauty of Costa Rica with worry- free escorted travel. We offer small groups of friends, family, and referrals personalized, authentic tours of the true beauty and adventure of Costa Rica. Getting off the beaten path to truly understand and...

Last Modified: 21 Jul 2016 travelers' reviews: travelers' rating: 0 of 10 travel products: 0

Panorama Tours, San Jose


200 meters west from BAC San Jose, Barrio Escalante, Ofiplaza del Este, Building A, first floor

We are a team of knowledgeable, enthusiastic and dedicated people that have a passion for sharing our commitment with sustainability and our love for Costa Rica with visitors from around the worldAn enjoyable, smooth and satisfying vacation experience is our goal. We make it happen...

Last Modified: 23 Nov 2011 travelers' reviews: travelers' rating: 0 of 10 travel products: 0

Last Modified: 7 Dec 2011 travelers' reviews: travelers' rating: 0 of 10 travel products: 0

Last Modified: 8 Dec 2011 travelers' reviews: travelers' rating: 0 of 10 travel products: 0

Last Modified: 15 Dec 2011 travelers' reviews: travelers' rating: 0 of 10 travel products: 0

Last Modified: 24 Dec 2011 travelers' reviews: travelers' rating: 0 of 10 travel products: 0

Last Modified: 10 Jan 2012 travelers' reviews: travelers' rating: 0 of 10 travel products: 0