Yanukovych Countryside Residence
We invite you to take a unique tour to the Mezhigorie Ukrainian President Yanukovych's countryside residence!

Mezhigorie – the former residence of Viktor Yanukovych House, a position of President held from 25 February 2010 to 22 February 2014, Yanukovych residence is near Kiev in the village Novie Petrivtsi on the right bank of the Dnieper river upper the sity Vushgorod.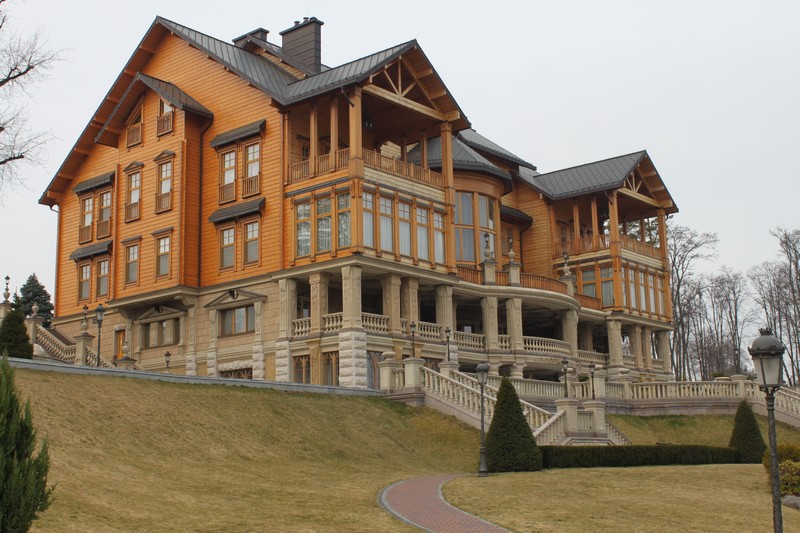 HONKA -Yanukovych Countryside Residence

The title of President Yanukovych deprived on the 04-th of February 2015 by The Supreme Rada of Ukraine voices 281 of deputies. Mezhihirya Residence located ten kilometers from Kiev, and has area about 144 hectares near the Kiev reservoir. Until 1935 in the territory of modern residence was Mezhyhirya Monastery. But in 1934, immediately after the relocation of the capital from Kharkov to Kiev leaders chosen territory for a place for their summer homes until 2007, it was considered the seat of government, but then was put into private ownership.Was ordered to blow up the remaining housing Mezhigorie Holy Transfiguration Monastery. The least worried about the fate of the ancient monastery, known by the chronicles XII century. During the demolition was discovered underground collection of manuscripts. According to one version of the book was lost library of Yaroslav the Wise, or the later period – the epoch of the Zaporozhian.

Trip to Ukrainian president Yanukovych's countryside residence Mezhigorie will allow you to experience unforgettable and conflicting feelings. On one hand, it is beautiful and very well maintained park, on the other hand is a collection of expensive works of art and architecture, without any meaning and logic, which is privately owned by one family and kept at taxpayers. We cannot ignore the main five storeys house – three wooden and two stone HONKY. The interior of the Viktor Yanukovych House is rich and fascinating. All around sparkles from a huge amount of gold and crystal. A prominent place is a large icon of the Mother of God, thus emphasizing the sanctity of ostentatious former owner. Many tourists compare this place with Versailles.

No less popular among visitors are: The golden bowl - top greed and ignorance; very interesting is Car park (worth about $ 800 000), where a collection of vintage cars and motorcycles: total in Yanukovych Presidential Residence Mezhigorie three pools with fountains and the island: Outdoor tennis court; Bathhouse; Sports club; Consists of a recreation center, bowling alley, indoor tennis courts and underground shooting range; Horse Club; Office building; A massive two-storey building is located right at the main entrance to the Mezhigorie close to him – a boiler room; The complex of greenhouses where vegetables grow; Heliport with hangar; Also at the museum has zoo with amazing for Ukrainian latitudes animals. For example, people have Mezhyhirya kangaroos, emus and peacocks. Children will be pleased by such an unusual walk through the reserve.
More travel products/services from ARGOTOUR
02 Jun 2016




Strategic Missile Soviet Time Base in Pervomaisk

02 Jun 2016




Chernobyl trip