Uzbekistan
The Silk Road, Moghuls, Alexander the Great - you'd never think that all these historic places, milestones, and personalities have influenced and actually lived in the Central Asian region and Uzbekistan in particular. You'd probably recall India, Afghanistan, Persia, but never Uzbekistan. Mind you, the first of Moghuls - Babur - was born in what now is known as Fergana Valley in contemporary Uzbekistan. The legendary Taj Mahal was built by a direct descendant of Babur who, you guessed it right, was born "in Uzbekistan". So there's a ton of history in this diverse land and most Uzbeks are very proud of it.

Well, since we started in Fergana valley, which is definitely the least exciting place to visit if you are looking for visual cues, let's take a look at who lives here now and whether a curious traveler will find something of an interest.

For starters, archaeologists will drool over the excavation in Kuva, a tiny village some 20 miles SW of Andijan (birth place of Babur, remember him?). This excavation is rather slow, it actually started some 50 years ago, but its significance is hard not to notice. Archaeologists dug out a 7-8th century Buddhist temple there! It certainly does not look close to spectacular, but the adjacent museum tells lots of interesting stories and displays a good number of ancient artifacts.

Nearby Andijan is a dusty tense city full of merchants, huge markets and the only automobile manufacturing plant in the whole of Central Asia. This was a joint project of Uzbek government and now defunct South Korean Daewoo brand. Daewoo was acquired by Chevrolet so this facility manufactures local versions of older Chevys and rebadged Daewoos. Not exciting facts at all, but we have to mention this, eh? On a positive note, Andijan has a great artisan's corner located in the middle of local market. You are definitely going there with a tour guide, so they'd know where to look.

Fergana valley is named after Fergana city. Locals proudly call it "Pearl of the East" and Wikipedia describes it as "orderly tree-shaded avenues and attractive blue-washed 19th century tsarist colonial-style houses" and that "the city has a distinctly different feel from most Uzbek cities". We totally agree and this place is a highly recommended stopover. If you are lucky, you'll see a great collection of fine art, which they rotate infrequently at the local museum. All artists presented there are local, and they are very cute followers of Russian pre- and post-WWII modern art.

On your way back to Tashkent (about 250 miles NE, 4-5 hours of crazy driving on a two lane highway, one 2000m mountain pass), which most likely be with a private driver, you will pass through Rishtan and Kokand. Rishtan is a small but very proud village. They have good reasons: their ceramics and pottery are unique and all hand-made. You can't compare this style with Delftware, but they are pretty good too. A well educated collector will definitely appreciate this. Bring a lot of cash as you would want to buy it all.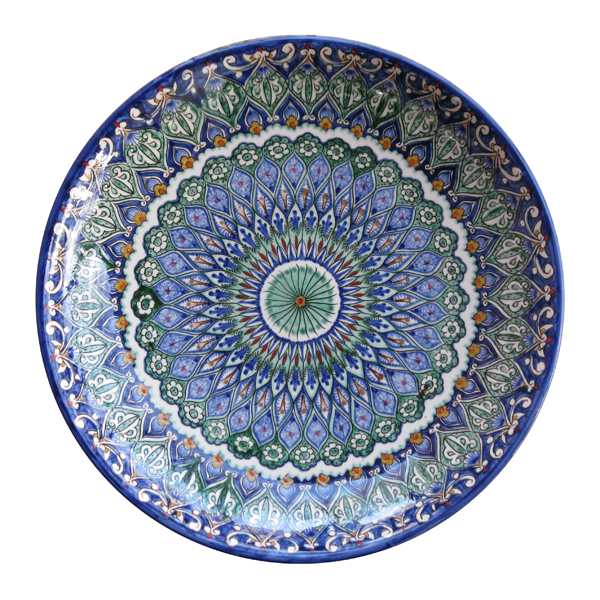 A Rishtan Ceramic Plate, Uzbekistan
taken from: Uzbek Art



And finally we are in Tashkent, Uzbekistan's capital. This will be the last least exciting place with a weird mixture of modern steel and glass architecture and Soviet era apartment buildings. Don't go too deep in the residential areas and you might actually enjoy the capital. Restaurants and clubs are very visible, hotels are modern and inexpensive and overall vibe is quite chic.

Typically all visitors arrive in this country through Tashkent international airport and a good first impression is NOT what this airport is famous for. Absolutely disorganized lines, two-three passport control officers in tiny arrivals hall, very slow customs that seem to pick on every local who arrives back from abroad. Granted, they bring a ton of stuff with them, and customs gets very "excited" when they seen a Moscow arrival. You'd need to fill out customs papers on arrival and please keep that precious document with you until you leave the country. Make certain you declare everything valuable you bring in the country and be particularly careful about cash. Under no circumstance you'll be allowed to leave Uzbekistan with more cash than you declared on arrival. Good thing, that airport and its reality is not what Uzbekistan is about. The country has its problems, but it's a very interesting place to explore.

This story started in Fergana valley, but the typical tourist route will take you west of Tashkent first.

First stop - Samarkand. One of three true gems you'll find in this country. You can get there by train, car or a daily flight from Tashkent, but I'd recommend the first two choices. 150 miles of a neat highway will get you to Samarkand, a now heavily restored and clean city with a 2500 years of history. Please visit one of many informative travel websites to read detailed stories about Samarkand (and all other places of interest) before you arrive. Your guide will overwhelm you with facts, so it's always good to prepare in advance. Read before you go! This will help appreciate the astonishing sights and you'll be glad you can recognize the names as you follow your guide's presentation along.



Once you've visited each and every mosque, mausoleum and market in Samarkand (this might take a couple of days), your trip will likely take you to Bukhara, a surprisingly different city! You'd expect the same but you'd be wrong! Architectural marvel and the best place to experience warm hospitality of locals. By the way, a few words about the people: they are poor, especially in the rural areas, but very friendly and treat each tourist as the most welcome guest. You will easily make friends with your guide, bus or car driver, hotel staff and each and every artist you'll meet in this country.

In addition to two dozen of world class 2000 years old architectural monuments, Bukhara is famous for family run inns and bed & breakfasts. If you want a total immersion in the local culture, please stay in one of many private B&Bs/Inns. What they may be lacking in amenities (if compared to chain hotels), they make up easily with hospitality and service. Plus the food is great.



When you are done with Bukhara and still have a few days of your vacation left, never hesitate to head to Khiva - a true masterpiece of architecture, history and culture. You'd hate the road if you decide to drive, but the destination is totally worth it. Again, read about this place before you go (this website is a good example), and make sure you have your camera with you. You will be rewarded with living inside the walls of UNESCO world heritage site as one of the hotels used to be a religious school in 19th century!

The majority of tourists head back to Tashkent right after Khiva and a short flight would be a good choice. Uzbekistan has its own national airline and the airplanes are usually well maintained and comfortable.

If exotic and ancient cultures are your "thing" you'd be pleasantly surprised in Uzbekistan. Uzbekistan actually offers more than just historic monuments and 2000 years old cities. Eco-tourism is big and well supported, trekking is one of the best out there, you can even go skiing - but that's another story yet to be told.