Visiting Newark, NJ - exploring the area with a rented car
Article Intro
Newark, New Jersey, has a rich history and offers a variety of attractions for visitors to explore. It features numerous places to go and things to see during your visit. Whether you're interested in history, art, culture, or simply exploring a lively city, Newark has something to offer for every visitor.
You visit to Newark starts with arrival in its airport which is likely to be the Newark Liberty International Airport (EWR). It is one of the three major airports serving the New York metropolitan area, along with John F. Kennedy International Airport (JFK) and LaGuardia Airport (LGA) in New York City. After arrival, for mobile travellers who like independence, a crucial task is to find the right rent a car service in this area.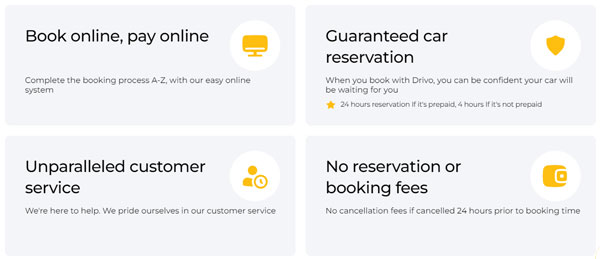 Drivo - Rent-a-car service in Newark, NJ



* Renting a car at Newark Liberty International Airport (EWR) in New Jersey is a straightforward process. Here's a step-by-step guide to help you easily rent a car:

* Research and Compare: Before your trip, research and compare car rental companies that operate at Newark Airport. Look for reputable companies that offer the type of car you need and have good customer reviews.

* Make a Reservation: Once you've chosen a car rental company, make a reservation in advance. You can do this online through the company's website or by calling their customer service. Booking ahead of time ensures you have a car available and may also get you better rates.

* Provide Necessary Information: When making the reservation, you'll need to provide your personal information, including your name, contact details, and driver's license information.

* Choose Pick-Up Location: At Newark Airport, car rental agencies are typically located at the Rental Car Center. Follow the signs to the AirTrain station inside the airport, which will take you to the Rental Car Center. Choose the car rental company you've made a reservation with.

* Complete the Rental Agreement: At the rental counter, present your driver's license, credit card, and any additional documents required by the rental company. You'll be asked to sign a rental agreement that outlines the terms and conditions of the rental.

* Inspect the Car: Before leaving the rental lot, inspect the car for any pre-existing damage, and ensure that everything is in proper working condition. Take note of any damages or issues and inform the rental company to avoid any potential disputes later.

* Return the Car: When it's time to return the car, follow the signs to the Rental Car Center at the airport. Make sure to return the car with a full tank of gas, as most rental companies require this.

* Pay for the Rental: Upon returning the car, the rental company will finalize the charges based on the rental agreement. They will charge your credit card for the rental fees and any additional costs, such as fuel or optional extras.

By following these steps, you can easily rent a car at Newark Airport and have the convenience of transportation during your stay in New Jersey.