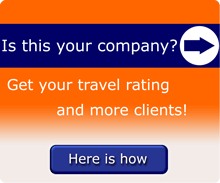 Turan Travel Service, Tashkent, Tashkent, Uzbekistan
Turan Travel Service
What we do at Turan Travel Service
The company Turan travel service offers You a wide range of individual and group tours through the most interesting and beautiful places of Uzbekistan. We are also happy to customize any of our existing tours to the desires of the client, or even make a tour by individual requirements. Our main goal is to make the tour so that all what need from our clients, is to just pack up and enjoy vacation during the trip. If you are interested in, to see and feel the beauty of the East, you have come to the right place. Turan travel service is not just a travel agency. We offer our tourists specially designed private tours at all the wonderful places of Samarkand, Bukhara, Khiva and other historical centers of Uzbekistan. In addition, we can offer you something more - an opportunity to feel the real taste of the East in its pure, original form.
Travel products/services provided by Turan Travel Service
21 Nov 2015




Organization of tours to Uzbekistan

21 Nov 2015




Organization of business trips around Uzbekistan.
Name, location and contacts
Company name
Turan Travel Service
Address and Postal Code, City, Province/State, Country
Mirzo Ulugbek district, Mustaqillik Avenue, 68A, 309 room
100000
Tashkent
Uzbekistan
Map
view on larger map
Driving Directions
n/a
Personal Information for Turan Travel Service
Contact Person
Mr Eugene Bikov
Photo Travel Specialty
Type of business

Tour Operators

Travel Specialty of Turan Travel Service

Performing Arts


Lifestyles, Traditions


Arts and Antiques


Archeology


Guided Tours


Business Travel


Nature


Culinary/Cooking/Wine


Airplane


History


Responsible and Ecotourism


Family Travel


Student Travel


Shopping Tours


Ski/Winter Sports


Customized Travel


Senior


Group Vacation


Women's Travel


Rail


Medical Tourism


Holiday Travel


Mountaineering, Climbing Sports


Single


Culture and Heritage


Luxury Travel


Events/Meetings/Conferences


Trekking, Walking, Hiking, Camping


Coach/Bus


Car


Bicycle


Kids, Youth


Spiritual and Religious, Pilgrimage

Business Details
Type of business
Ltd.
Year incorporated
2009
Year started working
2009
Home based?
yes
Number of Employees
15
Spoken Languages
Russian, English
Tripcook Awards
n/a
Write/Modify a Review about Turan Travel Service
Visitors Reviews for Turan Travel Service
Average reviewers' rating:
10

of

10

based on

1

review(s)
Eugene

, Latvia ,

16 Nov 2015

,
Email verified: Yes, hidden

Thanks to Turan Travel Service I have visited a great, charming place. Uzbekistan is the ancient cultural center, and it is the most exciting country among the Central Asian republics from historical point of view. I was surprised when I learned that on its territory are the most ancient city in the world, several major centers of the Great Silk Road and the most amazing architectural treasures of the region. Tour was very interesting and informative, the staff of Turan Travel Service are skillful professionals who knows his business. In general I am very pleased that appealed to Turan Travel Service