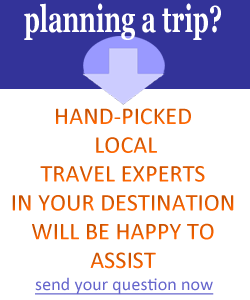 Permanent Partnership Proposal to Travel Associations, Federations and Tourism Boards
Tripcook prepared a 100% free-of-charge proposal to travel associations, federations of tour operators, hotels, transport companies, tourism boards and other membership-based entities which are involved in promoting tourism and travel in their respective countries across the world.



Travel companies join your Travel Association because they want ADDITIONAL VALUE, BENEFITS AND ADVANTAGES for their business. Isn't this why they pay your membership fees?



Tripcook has a number of useful functions and tools to promote any travel business online. See full list here:



All services and products for Tripcook's members.






In partnership with Tripcook, travel associations can offer their members MORE VALUE, BENEFITS AND ADVANTAGES using Tripcook's Discounted Membership.
And it is 100% free-of-charge for your Association!



See more about Discounted Membership


To use this proposal of Tripcook, you can follow the steps below
❶
Establish partnership with Tripcook by placing the below widget onto the website of your Travel Assosiation, for example, its partners section*.



| | |
| --- | --- |
| | Use the HTML code to place this banner on your page: |



* Important! The look and feel of the banner can be modified as required to comply with your website layout; the link, however, must be active, dofollow and indexable.
❷
Contact Tripcook (use Contact Page) and tell us that you have established the widget and now wish to provide your members with a Discounted Member Coupon from Tripcook.
❸
Tripcook will email to you the Coupon (a digital code) which can be used by your members to utilize valuable features of Tripcook as a Discounted Member.
Feel free to contact us at Tripcook at the Contact Page if you have questions or proposals regarding this special offer.