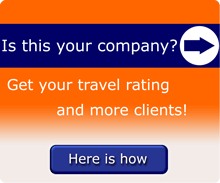 Tropical Valley Safaris, Nairobi, Kenya

Tropical Valley Safaris
What we do at Tropical Valley Safaris
We organize such travel services as holiday packages, hotel bookings, flight reservations, and car rental to people traveling to any top destination in Kenya, Uganda, Tanzania, and Rwanda.
Travel products/services provided by Tropical Valley Safaris
No travel products listed
Name, location and contacts
Company name
Tropical Valley Safaris
Address and Postal Code, City, Province/State, Country
P.O. Box 10995,GPO 00100,Nairobi, Kenya
00100
Nairobi
Kenya
Map
Driving Directions
n/a
Personal Information for Tropical Valley Safaris
Contact Person
Ms Davina Adhiambo
Photo Travel Specialty
Type of business

Tour Operators


Travel Agents

Travel Specialty of Tropical Valley Safaris

Bird Watching


Responsible and Ecotourism


Car


Guided Tours


National Parks, Reserves


Business Travel


Budget Travel


Mountaineering, Climbing Sports


Culture and Heritage


Nature


All Inclusive


Airplane

Business Details
Type of business
Partnership
Year incorporated
2010
Year started working
n/a
Home based?
no
Number of Employees
5
Spoken Languages
English, French, Swahili
Tripcook Awards
n/a