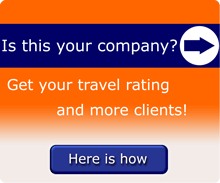 Hotel Valverde & Residenza, Cesenatico, FC, Italy
| | |
| --- | --- |
| | Hotel Valverde & Residenza |

What we do at Hotel Valverde & Residenza
The Family Resort Hotel Valverde & Residenza was opened in the summer of 2000 and is located in the popular seaside location of Cesenatico, a sunny town on the Italian Riviera that has been awarded with the Blue Flag by the European Community, an environmental symbol of quality infrastructure, state-of-the-art facilities and clean water, for the last 10 years. The Hotel consists of flats and suites that make you feel as if you were at home, or better still, with all bedrooms having a splendid sea view. The architecture of the L-shaped hotel complex is impressive, and the splendid windows reflect the summer colors. The large swimming-pool park of 350 sqm consists also of a whirlpool and a baby area. Guests can also relax in the spacious green area in a privileged position on the seafront promenade, next to "Parco del Levante". Our services: - 3 pools (1 heated) - 1 pool for children - Whirlpool - Bike - Tennis/volley court - Ping pong - Wi-fi free (lounge area) - Videogames and billiard - Laundry - Meeting room - Baby garden - 2 elevators - Restaurant and catering - Parking - Garage - Bike garage - Garden - Air condition - Free night shuttle to the old town





Travel products/services provided by Hotel Valverde & Residenza
No travel products listed

Name, location and contacts

Company name

Hotel Valverde & Residenza

Address and Postal Code, City, Province/State, Country

Lungomare Carducci 278 47042 Cesenatico (FC) Italy

47042

Cesenatico

Italy

Office Phone
Mobile Phone
Fax
E-mail
Instant Messaging
Website
Social Media



Map
view on larger map


Driving Directions
n/a

Personal Information for Hotel Valverde & Residenza

Contact Person

n/a

Photo

Travel Specialty

Type of business
Lodging

Travel Specialty of Hotel Valverde & Residenza
Family Travel
Leisure Travel
Aquatic Sports
Holiday Travel
General
Kids, Youth
Bicycle
Sports/Exercise
Golf/Tennis
All Inclusive
Group Vacation
Handicapped/Accessible
Aquatic Leisure


Business Details

Type of business
n/a
Year incorporated
n/a
Year started working
n/a
Home based?
no
Number of Employees
n/a
Spoken Languages
n/a

Tripcook Awards

n/a
Write/Modify a Review about Hotel Valverde & Residenza
Visitors Reviews for Hotel Valverde & Residenza
Average reviewers' rating:
10

of

10

based on

1

review(s)
Sanna

, Austria,

18 May 2017

,
Email verified: Yes, hidden

A great hotel for a beach holiday! Some friends of mine wanted to go to Cesenatico together with their 5 and 7 year old children and I decided to join them as I felt like needing a short holiday break. We found the hotel on the internet and were really pleased when we arrived: the check-in was fast and friendly and when we saw the room we were really happy: it was huge with sea view, terrace, a big bathroom and equipped with a lot of lovely details, making you feel immediately like being on holiday. The children played a lot of time in the swimming pool area and on the private beach, where we had an umbrella and a chaise; as the sea was already quite warm, we really enjoyed our time here. With the children it was good to opt for all-inclusive so we exactly knew how much to spend at the end. The kids enjoyed the freetime program of the hotel that I can highly recommend for families with children as the personnel really takes care of them; but also I took part in some freetime activities like a bike tour, in order to get rid of the extra pounds gained by always eating too much at the excellent buffet with many regional dishes. All in all, I can highly recommend this hotel not only for families with children but for everyone who loves the beach and is looking for a welcoming and relaxing stay in Cesenatico!