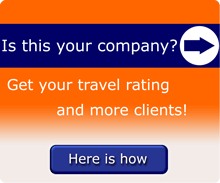 Hotel Sport & Residenza, Cesenatico, FC, Italy
| | |
| --- | --- |
| | Hotel Sport & Residenza |

What we do at Hotel Sport & Residenza
The Hotel Sport & Residenza, located just a short walk from the beach and centre of Cesenatico (Italy) has an architectural style with a Mediterranean touch, spacious areas, and bright and relaxing colours. The complex - recently renovated - stands around the large swimming-pool park. Just 100 metres from the Adriatic Sea and a short stroll from the pedestrian area in Villamarina; choose between guest rooms and self-catering apartments at Hotel Sport & Residenza. You will find a free internet point, fitness centre, and bike rental. Take part in a wide range of sports or simply relax at the swimming pool with hydromassage area and fountain. Children have a play room with video games and external playground. Enjoy typical, regional and Italian cuisine at the restaurant which specialises in fresh fish dishes. Hotel Sport & Residenza is a mix of large, communal areas and modern accommodation. Choose a room with balcony or an apartment with a fully equipped kitchenette. Our services: - swimming pool - heated swimmingpool - Whirlpool - Tennis/volley court - Ping pong - Wi-fi free (lounge area) - Videogames and billiard - Laundry - Meeting room - Baby garden - Restaurant and catering - Parking - Garage - Bike garage - Garden - Air condition





Travel products/services provided by Hotel Sport & Residenza
No travel products listed

Name, location and contacts

Company name

Hotel Sport & Residenza

Address and Postal Code, City, Province/State, Country

Via Pitagora 5, 47042 Cesenatico (FC)

47042

Cesenatico

Italy

Office Phone
Mobile Phone
Fax
E-mail
Instant Messaging
Website
Social Media



Map
view on larger map


Driving Directions
n/a

Personal Information for Hotel Sport & Residenza

Contact Person

n/a

Photo

Travel Specialty

Type of business
Lodging

Travel Specialty of Hotel Sport & Residenza
Family Travel
Leisure Travel
Aquatic Sports
Holiday Travel
Sun, Resorts, Beaches
General
Kids, Youth
Bicycle
Sports/Exercise
Golf/Tennis
All Inclusive
Group Vacation
Handicapped/Accessible
Aquatic Leisure


Business Details

Type of business
n/a
Year incorporated
n/a
Year started working
n/a
Home based?
no
Number of Employees
n/a
Spoken Languages
n/a

Tripcook Awards

n/a
Write/Modify a Review about Hotel Sport & Residenza
Visitors Reviews for Hotel Sport & Residenza
Average reviewers' rating:
10

of

10

based on

1

review(s)
Sanna

, Austria,

23 Jun 2017

,
Email verified: Yes, hidden

Nice hotel in Cesenatico. Located in a quiet part of the town, but still close to the beach, shopping facilities and nightlife. The rooms were big, comfortable and absolutely clean. The kids loved the pool and the special children menus. We definitely enjoyed our stay and can recommend this hotel!