Distribution: spread your travel products and/or articles across the web
Tripcook constantly works on promoting your travel business online. You have published your travel product on Tripcook. Now, how about spreading it to a host of travel websites and through the vast network of industry contacts in social media? See the benefits below.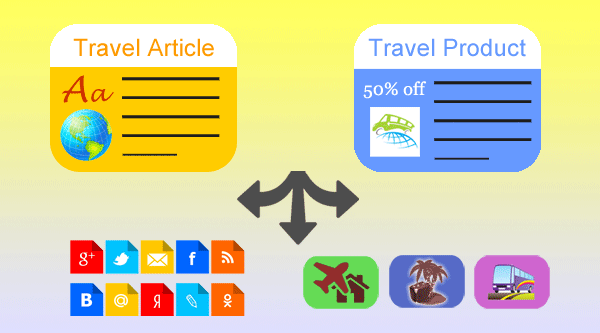 Travel Products/Articles Distribution on Tripcook
More people to read
Your travel product will be seen by a greater number of people than if it were published on Tripcook only. When potential clients read your product and see your pictures, they are more likely to visit your website to order your services by clicking your links.
More travel links to company website
Travel products published on Tripcook's network may contain links to your travel company website (or websites). Each link is then accounted for by search engines, such as Google, adding authority and trust to your site. With more links, authority and trust, your website is likely to beat the competitors on the search results page.
Better quality active travel links from authoritative and relevant websites
The sites where your products are distributed are well-established travel websites, with good Pagerank and visibility. Soliciting links from them is usually a lengthy and costly process. Tripcook does that literally in one click! (see more info inside your account)


| | |
| --- | --- |
| | Links that come from our affiliated network are ACTIVE, that is, fully indexable by search engines and dofollow links. |
| | Links come from travel related websites, that is, they are natural and relevant. |
| | The text (travel product) that you have published is 100% related to what your website offers. |
| | We have designed a built-in mechanism to avoid practices that may harm your website ratings, for example, you cannot use just one product for the entire network, your travel products are pre-moderated and must comply with high quality requirements. |
Spreading your products through social networks
Tripcook offers its members a unique feature: your travel articles and products will be featured on our pages in major social media, such as Facebook, Twitter, LinkedIn, Google+ etc.

Typically, this service is available to M4 Privileged Members only (See more info on Membership). However, Tripcook may extend this service to free members as well if their travel articles and products offer significant value to our audience. It is the sole discretion of Tripcook to decide which product and/or article shall be distributed in social media. The owner of the product/articles will be notified accordingly about such social distribution.