Ecotour in Ethiopia- Bird watching Tour
10 Days Bird watching Safari

Duration: 10 Days

Activities: Safari Tour, Bird watching and Wild Viewing

Customize: This package can be customized

Accommodation: Mixed (Hotel, lodge, or camping)

About 860 species of birds live in the highlands, Lowlands, river banks, wet lands, dams, lakes, forests, shrubs and grasslands of Ethiopia. The number, diversity and color of birds found in the country have power to interest even the non birders. With regards to number of species Ethiopia stands next to South Africa, but the country possess a higher number of endemics and semi-endemics which it shares with Eritrea.

Day 1: Arrive in Addis Ababa; meet your guide holding Addis Tours sticker and transfer to hotel. After breakfast you will be fetched by our tourist guide to be taken on the full day Addis Tour, Which includes the National Museum and Trinity Church and at last Visit the Entoto Mountains, with its view over the capital. Mt Entoto will give the opportunity for diverse bird life. Here we expect the Abyssinian wood pecker, Abyssinian catbird, Wattled Ibis (endemic), Moorland Francolin, white-collared Pigeon, Black-winged Lovebird, White-cheeked Turaco, mountain Nightjar, banded Barbet, White-winged Cliff Chat, Abyssinian Ground Thrush, Brown parisoma, White-backed Black Tit, Abyssinian Black-headed Oriole and White-billed Starling.

Overnight Addis Ababa Ghion Hotel http://ghionhotel.com/index.php/en/

Day 2: After you get a nice sleep, Early in the morning drive to Awash. Heading south down the Rift Valley we turn east at Mojo for Awash and the Afar Region. We pass Lake Beseka and enter the Awash National Park. On arrival we could take a leisurely walk passing through the patch of natural forest at the northern end of Elalaytu hill. On our way, we may encounter the following bird species: Black Scrub Robin, Somali Golden Breasted Robin, Nile Valley Sunbird, Lineated Pytilia, Yellow Throated Serin, Sombre Chat and Arabian Bustard.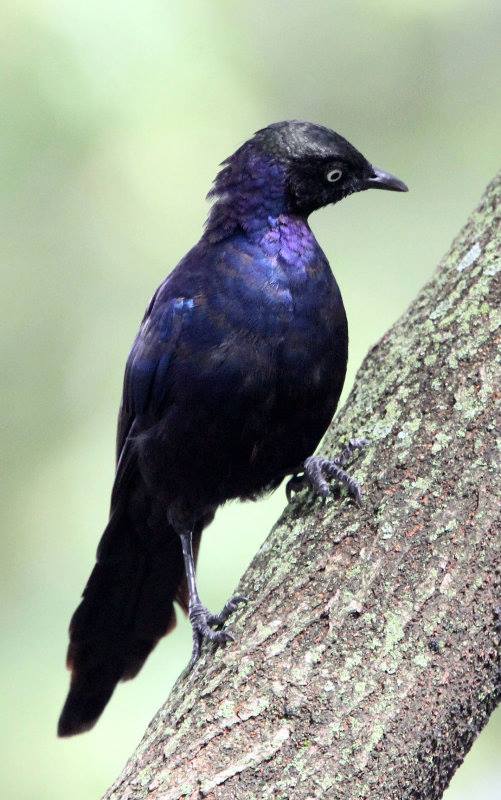 GREATER BLUE-EARED STARLING



Overnight Awash Park, Lodge http://awashfallslodge.net/

Day 3: The next day we could do an early morning game drive - visit the birds, which are found around the lodge, returning to the main road and proceeding to Langano, Bishangari.

Overnight Bishangari Lodge http://www.bishangari.com

Day 4: Bishangari, which means 'Sweet water' in Oromo Dialect, is situated adjacent to an ancient forest that remains intact due to inaccessibility and it is blessed with five ecological zones. Here, we expect Cliff chat, Nightingale, Warblers, Flycatcher, Laughing Dove, Wood Owl, Abyssinian Nightjar, Glossy Ibis and Silver Bill can be seen not far from the Lodge. Overnight Bishangari Lodge http://www.bishangari.com

Day 5: After an early break fast we drive to Shalla and Abijata National Park. Shalla 270 mts in depth, the deepest in Ethiopian rift, is an important breeding site for birds on its four of the nine islands. We then drive through the Ostrich Farms on the west of the main road. Proceed to Abijata lake, where thousands of both lesser and greater Flamingo's congregate along the shores. African Pochard, Avocet, Gull-billed Tern and Pintail, little Stint, Ruff and a variety of ducks are among other species to be seen. Drive to Wondo Genet (There is naturally heated open air pool) set among forested hills. In the gardens of the hotel and juniper Forests behind the hotel, we will see the silvery-cheeked Hornbill, White -cheeked Turaco, Yellow-fronted Parrot, Black-headed Forest Oriole, golden-backed Woodpecker, Red wing Starling, Grosbeak Weaver, Mountain Wagtail and Black-roughing Swallow. We can also see Columbus monkey, Anubis baboon and Bushbuck.

Overnight Wondo Genet Lodge

Day 6: leave Wodogenet after breakfast; enjoy spectacular views on our way to Hawassa, which is a half hour drive from Wondo Genet. Along the shores of the lake and in the adjoining forest we can expect Saddle bill and Marabou Storks ,Malakite king Fisher, Spur-winged plover, pygmy goose, Brown snake eagle, grey Kestral, Green-backed Honey guide, Blue-headed Coucal, Spotted Creeper, African Firefinch, Bruce's Green pigeon, Red-breasted Wryneck, Bare-faced Go away bird and the endemic Yellow-fronted Parrot, Black-winged Lovebird and Black-headed Forest oriole. Overnight Hawassa Lewi Resort www.lewihotelandresort.com

Day 7: Continue to Goba and the Sanetti Plateau, driving on the highest road and moorland in Africa. On the way we look at; Golden backed woodpecker, White backed Tit.

Overnight Goba www.wabeshebellehotel.com.et

Day 9: Full day birding in Bale National Park and return to Goba with a chance to see; Lemmergeyer and Abyssinian Catbird.

Overnight Goba www.wabeshebellehotel.com.et

Day 9: Drive back Addis Ababa, Continue to Lake Ziway with some stops to visit the Oromo villages. Lake Ziway is not only for its scenic qualities, but also for the large congregations of water-associated birds that are attracted to the redlined fringes by a thriving tilapia population.

In the evening, you will have a Dinner invitation by Addis Tour. Here you will enjoy and experience several tribal dance plus taste Ethiopian traditional food. http://ghionhotel.com/index.php/en/

Day 10: A scenic drive through the lush fertile valleys of Goha Tsion, as we pass through the Sululta Plain we can see Black-winged plovers, Wattled Ibis, Blue-winged geese, Common Cranes and Wheat ears.

On arrival at Debre Libanos, we will first stop at the Jemma River gorge. Here at the gorge (and in the forest around the church) we can expect to see the Banded Barbet, the Black-headed Forest Oriole, the White-billed Starling, the Red-billed Starling, the White-winged Cliff Chat, the White-backed Black Tit, the White-cheeked Turaco and Hemprich's Hornbill. We will also see one of Ethiopia's endemic mammals, the Gelada or bleeding heart baboon. (In the gorge we will see a variety

of vultures - Lamergeyer's, Ruppell's and Lappet faced vultures.)

Overnight Addis Ababa http://ghionhotel.com/index.php/en/

====================XXXXXXXXXXXXXXXXXXXXXXXXXXX=======================

Rate: 1865 USD per Persons (One Thousand Eight Hundred Sixty Five US Dollars)

Price includes:

• Fully insured two 4WD Vehicle with driver

• Fuel expenses

• Well Experienced Bird Guide

• Hotel on Double Room occupancy basis including breakfast (B&B)

• All transfer in & out with private car,

• All entrance fees, local guide fee, and scout

• Service tax

Price DOES NOT include:

• Photographing fees,

• Lunch and Dinner

• Personal expenses (tips, phone calls, table drinks, laundry, etc.),

• Domestic and International flights,

• Any other services/expenses not mentioned above.

It is advisable to bring Malaria bill and also consult your doctor.

WHAT TO BRING FOR A TRAVEL IN ETHIOPIA.....

Personal clothing: Light normal clothing preferably cotton that is easily

washable.

• Sunscreen

• Trekking Shoe and Sandal Shoe

• Sunglasses

• Head gear/hat/cap

• Mosquito spray

• Binocular for bird watching

• Aspirin and anti-biotic

• Your Video camera to bring should be below 5SSL

• Your Photo camera to bring should be below 5D (Immigration office in Addis Ababa will not allow Camera's with High Pixel above 5D)

For Terms and Condition please refer to the following link: http://addistour.com/reservation/Terms-Conditions.html

Ecotour in Ethiopia- Bird Watching Tour
More travel products/services from Addis Tour
20 Aug 2016




Tour in Ethiopia

23 Oct 2012




Historic Ethiopia Tour