4 DAYS/3 NIGHTS CULTURE, NATURE & HERITAGE OF MYANMAR
Yangon–Golden Rock -Bago-Yangon

4 Days/3 Nights

Overview

Let's explore Culture, Nature and Heritage Tours of Myanmar with Princess Irrawaddy Travels & Tours!

These Classic Destinations of Myanmar will let you experience not only beautiful essence of Myanmar but also Ethnic groups, Arts & Crafts, Cottage industries and ways of life of its people.

Myanmar, the Last Frontier of Asia with its grandeur Golden Temples and smiling people who are very friendly and always ready to give you a hand near you ,and the untouched destinations that attract you to prove an unforgettable visit that you have ever been in South-East Asia.

Discover Myanmar through the Gate Way City-Yangon; former Capital of Myanmar ,today, stands as Biggest Commercial City in the country with its charm of diverse mix of faded colonial architecture from the British times and the Majestic Golden Temple Shwedagon Pagoda, no wonder this charming City has once earned the name "the Garden City of the East". And its neighbor hoods; Bago- an ancient capital of the Mon Kingdom in 15th Century and the famous Golden Rock Temple on the mountain top. Enjoy your stay in Myanmar!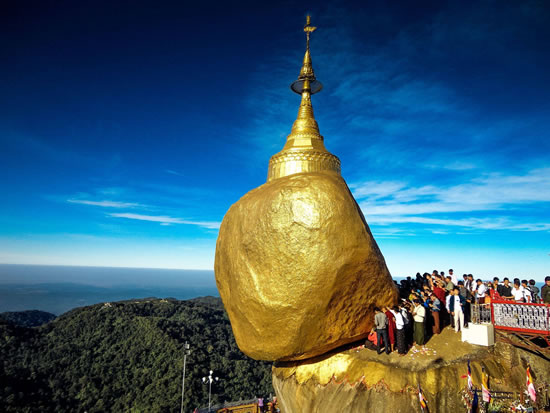 Tour Highlights: Culture & heritage, Nature and soft adventure, Local ways of life.

Coverage: Yangon–Golden Rock-Bago-Yangon

Tour starts City: Yangon

Tour ends City: Yangon

Duration: 4 Days / 3 Nights

Operational period: Year Round

The Best Time: from mid-October to mid-May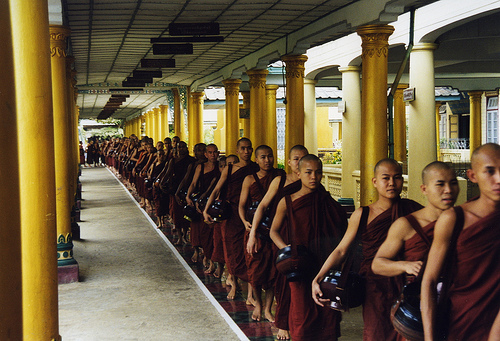 Activity Level: Light

Brief Tour Itinerary

Day 1: Arrival Yangon

Day 2: Yangon-Golden Rock (By Road)

Day 3: Golden Rock-Bago-Yangon (By Road)

Day 4: Departure Yangon

*****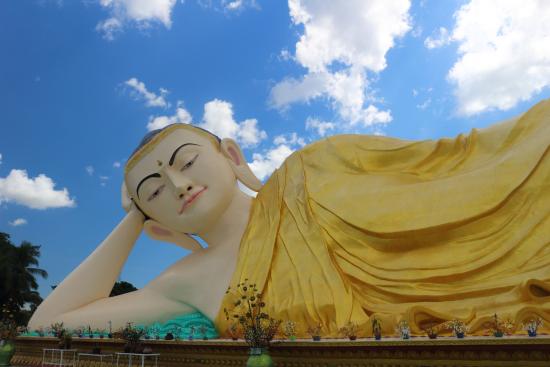 Mya Thar Lyaung The Reclining Buddha Image,Bago.



Day 1: Arrival Yangon

Welcome to Yangon! the commercial capital of Union of Myanmar. On arrival, you will be greeted and welcomed by your friendly Tour Guide in the meeting hall and transferred to the Hotel and check-in. After refreshments, we leave for a guided city tour with an experienced tour guide who will explain to you all the highlights of Yangon. We will visit downtown Yangon to see City Hall, Independent monument, Sule Pagoda and old Colonial buildings. Visit Botahtaung Pagoda: a landmark on the Yangon River with remarkable hollow type of relic chamber. Later on, stop at Strand Hotel: the 1901-built three-storied 5 star hotel in Yangon remains one of Southeast Asia's few grand colonial hotels and one of its most awe-inspiring. Your lunch will be served at a local restaurant. Later, visit to China Town noted for its fruits market, street foods stalls. Visit to Chaukhtetgyi Buddha Image; this colossal reclining Buddha is one of the largest images in Myanmar with its interesting distinguished 108 marks on the foot-print. Later on, visit to the magnificent Shwedagon Pagoda, one of the wonders in the world, noted for its religious significance and artistic beauty. Welcome Dinner at a local Restaurant which serves lovely Myanmar cuisine. Transfer back to your hotel and overnight at the Hotel in Yangon.

Accommodation: Hotel in Yangon

Meals: Lunch, Welcome Dinner

Day 2: Yangon-Golden Rock (By Road)

After a delicious buffet breakfast, we leave Yangon for Kyaik-hti-yo, about 160 km from Yangon, about 5 Hours' Drive. The Golden Rock Pagoda stands on a gold gilded boulder precariously perched on the edge of the hill, which is 1102 meters above the sea-level.

On the way, stop at God of Golden Banyan Tree; which Myanmar people believe a Guardian God for the road safety and the Htauk- Kyant War Memorial Cemetery with 27,000 stone-graves of Commonwealth and Allied Forces Fallen Soldiers in the Myanmar Campaign during the WW2 .Upon arrival to Kyaikhto, have lunch at Sein Lei Tin Resort and transfer to Kim-poon Base Camp and take the mountain-going truck to the upper –camp; an exciting truck ride along up-hill in the rain forest will be a wonder. Upon arrival to the upper-camp, check-in at Hotel, after refreshments, visit to the magnificent Golden Rock Platform. Enjoy the pleasant climate and breath-taking scenery from the Pagoda platform. Enjoy Dinner at the Hotel's Restaurant and overnight at the hotel in Golden Rock.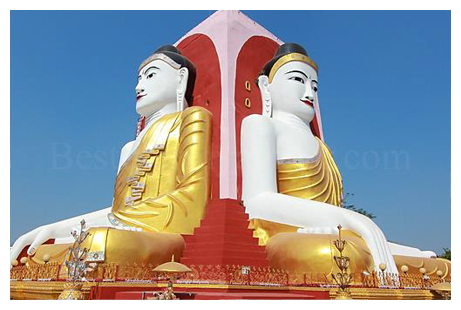 Kyaik Pun Four Buddha Images,Bago.



Accommodation: Hotel in Golden Rock

Meals: Breakfast, Lunch, Dinner

Day 3: Golden Rock-Bago-Yangon (By Road)

Early morning, get up to enjoy the sun-rise. After breakfast, prepare to go down the hill. Upon arrival to the base-camp, drive to Bago: an ancient capital of the Mon Kingdom in 15th Century. Bago is situated only 80 km north-east of Yangon. (approxi: 4 Hr-drive)

Upon arrival to Bago, have lunch at a local Restaurant. After Lunch, visit the magnificent Shwe Maw Daw Pagoda; over 2,000 years old temple. Later on, visit to Kya Khat Wai Monastery: one of the three largest Monasteries in the country and to observe the Buddhist monastic life. ShweTharLyaung (The reclining Buddha); 55 meters long and dating back 994 AD. Mya Thar Lyaung : the colossal reclining Buddha Image which was restored in recent years.

Visit famous Kal-yar-ni Sima (Ordination Hall) with 10 huge Stone inscriptions. Visit to Kanbawzathadi Palace of King Bayintnaung (1550-1581 AD).And visit Kyaik-Pun four huge seated Buddha Images in the open air.

Late afternoon, drive back to Yangon. Upon arrival back to Yangon, check-in at the hotel and Farewell Dinner. Overnight at the Hotel in Yangon.

Accommodation: Hotel in Yangon

Meals: Breakfast, Lunch, Farewell Dinner

Day 4: Departure Yangon

Have breakfast in your Hotel. If your international flight is in the morning & afternoon, you will be transferred to Yangon International Airport for your return international departure flight.

If your departure flight is in the evening: this morning, you may go shopping at Bo Gyoke Aung San Market (Ex-Scott's market) for shopping Souvenirs. After lunch, you are transferred to Yangon International Airport for your Departure Flight.

Accommodation: N/A

Meals: Breakfast, Lunch

*****