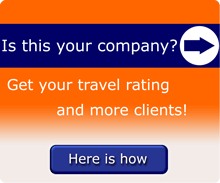 Canterbury Leisure Tours, Christchurch, Heathcote, New Zealand

Canterbury Leisure Tours
What we do at Canterbury Leisure Tours
Canterbury Leisure Tours is a Christchurch based tour company operating an extensive range of seat in coach day tours and activities together with extended overnight options throughout New Zealand. Established in 1992 as a national tour operator the company has grown into a national company selling a range of both day and overnight product throughout New Zealand.The companies philosophy is to package the best New Zealand has to offer from the top of the North to the bottom of the South into day tours, activities and overnight options. From ninety mile beach to Milford sounds with Rotorua Geothermal Reserve and Kaikoura Whale Watching in between, we cater for everything an international visitor to New Zealand may wish to experience.
Travel products/services provided by Canterbury Leisure Tours
No travel products listed
Name, location and contacts
Company name
Canterbury Leisure Tours
Address and Postal Code, City, Province/State, Country
260D Port Hills Road
8022
Christchurch
New Zealand
Map
view on larger map
Driving Directions
n/a
Personal Information for Canterbury Leisure Tours
Contact Person
Mr Kevin Edlin
Photo Travel Specialty
Type of business

Tour Operators


Tourist Transportation Providers

Travel Specialty of Canterbury Leisure Tours

Culture and Heritage


Leisure Travel


Coach/Bus


Whale Watching

Business Details
Type of business
n/a
Year incorporated
1992
Year started working
1992
Home based?
yes
Number of Employees
5
Spoken Languages
English
Tripcook Awards
n/a