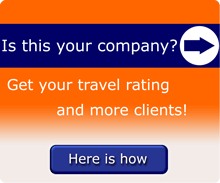 Friendship Nepal Tours and Travels, Kathmandu, Bagmati, Nepal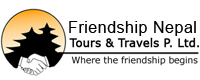 Friendship Nepal Tours and Travels
What we do at Friendship Nepal Tours and Travels
Friendship Nepal Tours and Travels Pvt. Ltd. is a fully licensed and registered tour & travel agency in Nepal and recognized by the tourism authority of the Government of Nepal, Nepal Association of Tour & Travel Agent (NATTA) and Nepal Tourism Board (NTB) as providing comprehensive Travel Package for leisure, Group, Charters & small-business traveler, backed by real-time Website & unmatched products. Since its beginning in 2003, we have been growing at a fast pace aspiring to emerge as one of the leading travel company in Nepal. The very fact that we are a young company, we are open to new ideas, flexible & adaptable to our clients needs.
Travel products/services provided by Friendship Nepal Tours and Travels
No travel products listed
Name, location and contacts
Company name
Friendship Nepal Tours and Travels
Address and Postal Code, City, Province/State, Country
Thamel, Kathmandu
24151
Kathmandu
Nepal
Map
view on larger map
Driving Directions
Nepal
Personal Information for Friendship Nepal Tours and Travels
Contact Person
n/a
Photo Travel Specialty
Type of business

Tour Operators


Tourist Transportation Providers


Travel Booking Sites


Travel Agents


Adventure Experience Providers

Travel Specialty of Friendship Nepal Tours and Travels

History


Culture and Heritage


Nature


Mountaineering, Climbing Sports


Single


Gay/Lesbian


Destination Weddings, Honeymoons


Arts and Antiques


Lifestyles, Traditions


Safari


Rafting/Kayaking


Women's Travel


City Breaks


Bird Watching


Responsible and Ecotourism


Student Travel


Adventure Travel


National Parks, Reserves


Senior


Kids, Youth


All Inclusive

Business Details
Type of business
n/a
Year incorporated
n/a
Year started working
n/a
Home based?
no
Number of Employees
n/a
Spoken Languages
n/a
Tripcook Awards
n/a