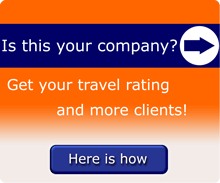 Tseren Tours, Ulaanbaatar, Tov, Mongolia
| | |
| --- | --- |
| | Tseren Tours |

What we do at Tseren Tours
We are specialized in customized tours and children's holidays





Travel products/services provided by Tseren Tours
No travel products listed

Name, location and contacts

Company name

Tseren Tours

Address and Postal Code, City, Province/State, Country

Baruun Selbe 14/1

13/1324

Ulaanbaatar

Mongolia

Office Phone
Mobile Phone
Fax
E-mail
Instant Messaging
Website
Social Media



Map
view on larger map


Driving Directions
n/a

Personal Information for Tseren Tours

Contact Person

Mrs Tserendolgor Enebish

Photo

Travel Specialty

Type of business
Tour Operators

Travel Specialty of Tseren Tours
National Parks, Reserves
Adventure Travel
Coach/Bus
Car
Trekking, Walking, Hiking, Camping
Family Travel
Leisure Travel
Responsible and Ecotourism
Bird Watching
Luxury Travel
History
Nature
Airplane
Mountaineering, Climbing Sports
General
Fishing/Hunting
Great Outdoors
Guided Tours
Rail
Rafting/Kayaking
Customized Travel
Budget Travel
Bicycle
All Inclusive
Rural Tourism
Equestrian/Horseback Riding


Business Details

Type of business
LLC
Year incorporated
1992
Year started working
1992
Home based?
no
Number of Employees
10
Spoken Languages
Mongolian, English, Dutch, French

Tripcook Awards

n/a
Write/Modify a Review about Tseren Tours
Visitors Reviews for Tseren Tours
Average reviewers' rating:
1

of

10

based on

1

review(s)
Spicy Beef Szechuan

, Switzerland,

05 Jun 2016

,
Email verified: Yes, hidden

Cheaters, fraud, very bad: Don't go with Tseren Tours! My girlfriend and me booked a 6 days tour by Tseren Tours. After 2 days, there was a blizzard and we had to return to Ulaanbaatar. They refused to give us a refund for the days we couldn't do.