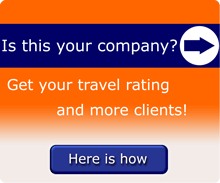 Western Travellers Private Limited, H.Funvilu, Male', Male, Maldives, Maldives
Western Travellers Private Limited
What we do at Western Travellers Private Limited
we are an inbound travel tour operator. we sell maldives destination with affordable prices, for families and friends, honeymooners, holiday packages and so on. we offer excursions like, diving, snorkelling, water sports all kinds of and male' tour, shopping tour and many more.
Travel products/services provided by Western Travellers Private Limited
No travel products listed
Name, location and contacts
Company name
Western Travellers Private Limited
Address and Postal Code, City, Province/State, Country
H.Funvilu,3rd Floor, 3A, Ameenee Magu, Male'
20076
H.Funvilu, Male'
Maldives
Map
Driving Directions
Ameenee Magu, near Stelco biulding, infront of Kudakudhinge Bageecha
Personal Information for Western Travellers Private Limited
Contact Person
Ms Minha Mohamed
Photo Travel Specialty
Type of business

Travel Publishers


Individual Tour Guides


Fun, Activity and Sport Experience Providers


Travel Agents


Cruises, Boats, Yachts or Ferries


Travel Booking Sites


Food, Wine and Cooking Experience Providers


Yacht Charters


Tour Operators


Destination Management Companies


Car rentals

Travel Specialty of Western Travellers Private Limited

Lifestyles, Traditions


Aquatic Sports


Sun, Resorts, Beaches


Destination Weddings, Honeymoons


Guided Tours


Business Travel


Nature


Culinary/Cooking/Wine


Sea Cruising, Cruise Lines


Airplane


Online Travel


Bird Watching


Responsible and Ecotourism


Family Travel


Student Travel


Music


Shopping Tours


National Parks, Reserves


Customized Travel


Senior


Snorkeling, Diving


Budget Travel


All Inclusive


Group Vacation


Astronomy/Stargazing


Motorcycle


Women's Travel


Medical Tourism


Holiday Travel


Boat/Yacht


Fitness, Wellness, Spa


General


Fishing/Hunting


Great Outdoors


Gay/Lesbian


Boating, Yachts, Sailing


Single


Golf/Tennis


Last Minute Tours


Luxury Travel


Scuba Diving


Leisure Travel


Car


Whale Watching


Kids, Youth


Bicycle


Government Travel


Diving with sharks

Business Details
Type of business
Travel business
Year incorporated
2015
Year started working
2015
Home based?
no
Number of Employees
4
Spoken Languages
English, Spanish, French, Italian, Hindhi
Tripcook Awards
n/a