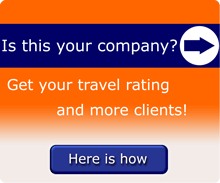 Varianos Travel Agency, Nicosia, Nicosia, Cyprus

Varianos Travel Agency
What we do at Varianos Travel Agency
Varianos Travel is a full service travel agent in Nicosia, Cyprus. Our outgoing tours department offers trips to Lebanon, Syria, Egypt, Jordan and Iran. We specialize in organizing skiing holidays to the Faraya Mzaar ski resort in Lebanon where we offer on the slopes accommodations, Bulgaria's premier ski resorts of Bansko and Borovets as well as to the Alpine village of Livigno in Italy. We also offer tickets for mini cruises and ferry tickets to the Eastern Mediterranean out of Limassol.
Travel products/services provided by Varianos Travel Agency
No travel products listed
Name, location and contacts
Company name
Varianos Travel Agency
Address and Postal Code, City, Province/State, Country
8, K. Pantelides Ave
1010
Nicosia
Cyprus
Map
view on larger map
Driving Directions
Between Eleftherias Square and Plateia Solomou.
Personal Information for Varianos Travel Agency
Contact Person
n/a
Photo Travel Specialty
Type of business

Tour Operators


Cruises, Boats, Yachts or Ferries


Travel Agents


Air Tickets And Connections Agencies


Lodging

Travel Specialty of Varianos Travel Agency

City Breaks


Family Travel


Holiday Travel


Fitness, Wellness, Spa


Ski/Winter Sports


Destination Weddings, Honeymoons


Archeology


Great Outdoors


Customized Travel


Business Travel


Snorkeling, Diving


Culture and Heritage


Group Vacation


History


Luxury Travel

Business Details
Type of business
Limited Liability Company
Year incorporated
n/a
Year started working
1995
Home based?
no
Number of Employees
6
Spoken Languages
Greek, English, Spanish, French, Arabic
Tripcook Awards
n/a