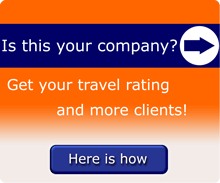 Hvar Adventure, Hvar, Splitsko-dalmatinska, Croatia
Hvar Adventure
What we do at Hvar Adventure
We are a team of young, professional and hard working enthusiasts and nature lovers dedicated to the project of creating the best and most complete offer of Adventure and eco tours on the island of Hvar island in Croatia. We provide sailing tours, kayaking, cycling, hiking, rock climbing, jeep safari tours and much more.
Travel products/services provided by Hvar Adventure
09 Aug 2012




Daily sailing tour
Name, location and contacts
Company name
Hvar Adventure
Address and Postal Code, City, Province/State, Country
Hvar, Croatia
21450
Hvar
Croatia
Map
view on larger map
Driving Directions
n/a
Personal Information for Hvar Adventure
Contact Person
n/a
Photo Travel Specialty
Type of business

Tour Operators


Fun, Activity and Sport Exeperience Providers


Cruises, Boats, Yachts or Ferries


Adventure Experience Providers


Individual Tour Guides

Travel Specialty of Hvar Adventure

Rafting/Kayaking


Trekking, Walking, Hiking, Camping


Boat/Yacht


Sea Adventure


Adventure Travel


Boating, Yachts, Sailing


Snorkeling, Diving


Mountaineering, Climbing Sports


Nature


Culture and Heritage


Bicycle


Sports/Exercise


Culinary/Cooking/Wine


Aquatic Leisure

Business Details
Type of business
limited liability company
Year incorporated
2005
Year started working
2005
Home based?
yes
Number of Employees
10
Spoken Languages
Croatian, English, Italian,
Tripcook Awards
n/a