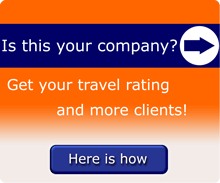 Castelo Viagens DMC, rio de janeiro, RJ, Brazil

Castelo Viagens DMC
What we do at Castelo Viagens DMC
Castelo Viagens is a Brazilian Incoming Agent of Belgian/Brazilian ownership and management, We handle virtually any kind of arrangement for foreigners intending to visit Brazil. It doesn't matter if you are just looking for a night in a hotel in Sao Paulo, a domestic flight, or a complete trip for group or incentive travel: we dispose of a network of local agents, which allows us to make quick, effective and budget wise travel arrangements throughout Brazil.
Travel products/services provided by Castelo Viagens DMC
No travel products listed
Name, location and contacts
Company name
Castelo Viagens DMC
Address and Postal Code, City, Province/State, Country
Av Olegario Maciel 518 c105
22621200
rio de janeiro
Brazil
Map
view on larger map
Driving Directions
From International airport -> take 'linha vermelha' highway, than 'linha amarela', follwoing on 'Av Ayrton Senna' to 'Av das Americas, then enter Olegario Maciel at teh church and overpass.
Personal Information for Castelo Viagens DMC
Contact Person
Mr Eric Van Hekce
Photo Travel Specialty
Type of business

Tour Operators


Destination Management Companies

Travel Specialty of Castelo Viagens DMC

Family Travel


Leisure Travel


Incentive Travel


Holiday Travel


Guided Tours


Customized Travel


Business Travel


General


Budget Travel


All Inclusive


Last Minute Tours


Group Vacation


Government Travel


Online Travel


Luxury Travel

Business Details
Type of business
Ltds
Year incorporated
1999
Year started working
1999
Home based?
no
Number of Employees
8
Spoken Languages
Portugues, English, German, Dutch, French, Spanish
Tripcook Awards
n/a